Food
10 minutes with Alex Craciun
Alex Craciun is the exec head chef at Jason Atherton's brand new Japanese restaurant, Sosharu. His amazing menu features dishes like cherry blossom cured salmon and tonkatsu crumbed pork - mmm. The restaurant just happens to be a stone's throw from the Sainsbury's mag offices so we were very lucky to tear him away from the kitchen for 10 minutes...
How did you get the job as head chef?
Jason and I have worked together for seven years at Maze and Pollen Street Social. When he decided to open another restaurant he came to me and asked what I wanted to do! We decided together it would be an Asian-influenced restaurant with a bit of a Japanese twist and British ingredients.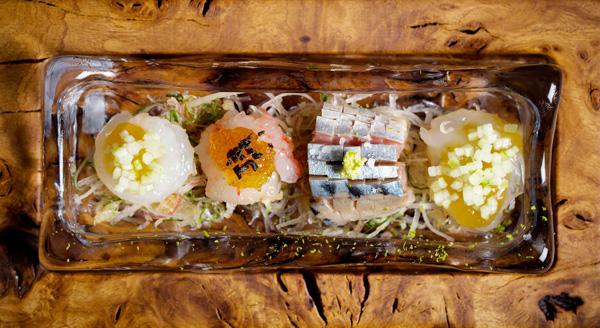 Assorted sashimi plate
How did you research the menu?
I spent a year there in Japan. It's important to experience all the seasons because there's a massive difference in ingredients from season to season. I was in Kyoto, Osaka and Tokyo. I loved Kyoto for really traditional Japanese food, and Tokyo for something more modern like sushi bars and tempura restaurants.
What did you learn in Japan?
Not to mess around with ingredients, so we don't play around with our vegetables in the restaurant, we just use them in their natural form and we don't make too much purée!
How did you develop the menu?
I put down my ideas and Jason says yes or no. Then all our chefs at Sosharu sit down, taste the dishes and get the final say.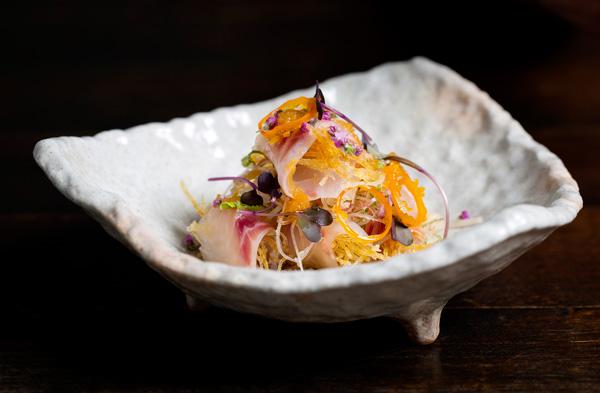 Sea bass sashimi salad with myoga and shiso, apple oroshi and ponzu dressing
How does the menu work?
It's mainly small dishes designed for sharing. There's loads of fish, loads of healthy food, not too much butter and cream.
What's your favourite dish?
I really don't have a favourite dish, but I do love the sea bream sashimi salad with crispy potato (And so do we! Acting food director Mitzie said the finely shredded potato, which is deep fried and dried in the oven, was really crispy and delicious!)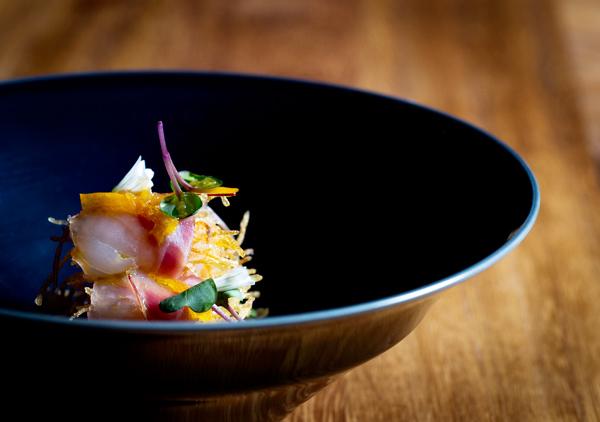 Bream sashimi with shichimi crispy potato
What's the best way to cook wagyu beef?
I think teppanyaki (cooked on an iron griddle), because it gets the best caramelisation on the meat and gives a crunchy texture to the outside. Then we finish it off in a wood oven for a few seconds so it takes on a lovely smoky flavour.
Yuzu is very trendy at the moment and you have it in butter form in the restaurant. How do you make it?
All you do is leave butter at room temperature then add a bit of juice and zest, and whip up to combine. Easy.
How do you use it?
You can use it in so many different ways – we add a tiny bit to scallops, but you can add it to any dish to give it a richness and depth of flavour.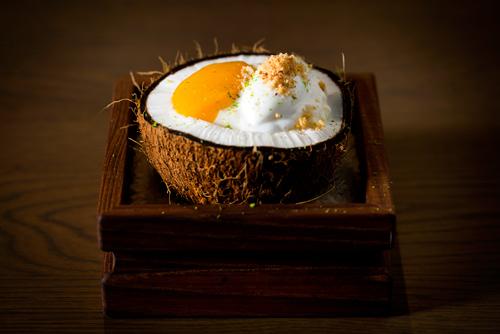 Japanese rice, coconut and mango
Can you tell us about the desserts – we spotted miso and matcha on the menu...
We've added Japanese flavours to desserts which people will be really used to, so your brain won't know what's happening. When you taste it all together it's going to be like 'Wow that really works'.
Sosharu is now open – check out the menu
About the author