A taste of sunshine
Not just for breakfast, zesty Florida Grapefruit gives a refreshing twist to any mealtime
The Sunshine State's ideal growing conditions make Florida Grapefruit the juiciest and sweetest in the world and, with a season that runs from January to March, there couldn't be a better time to enjoy it.
A source of vitamin C, vitamin A, potassium and fibre, it's a deliciously zesty way to get one of your five-a-day. With its thin peel, Florida Grapefruit also gives you more fruit for your money.
Watch our video recipe (above) for aromatic salmon with Florida Grapefruit.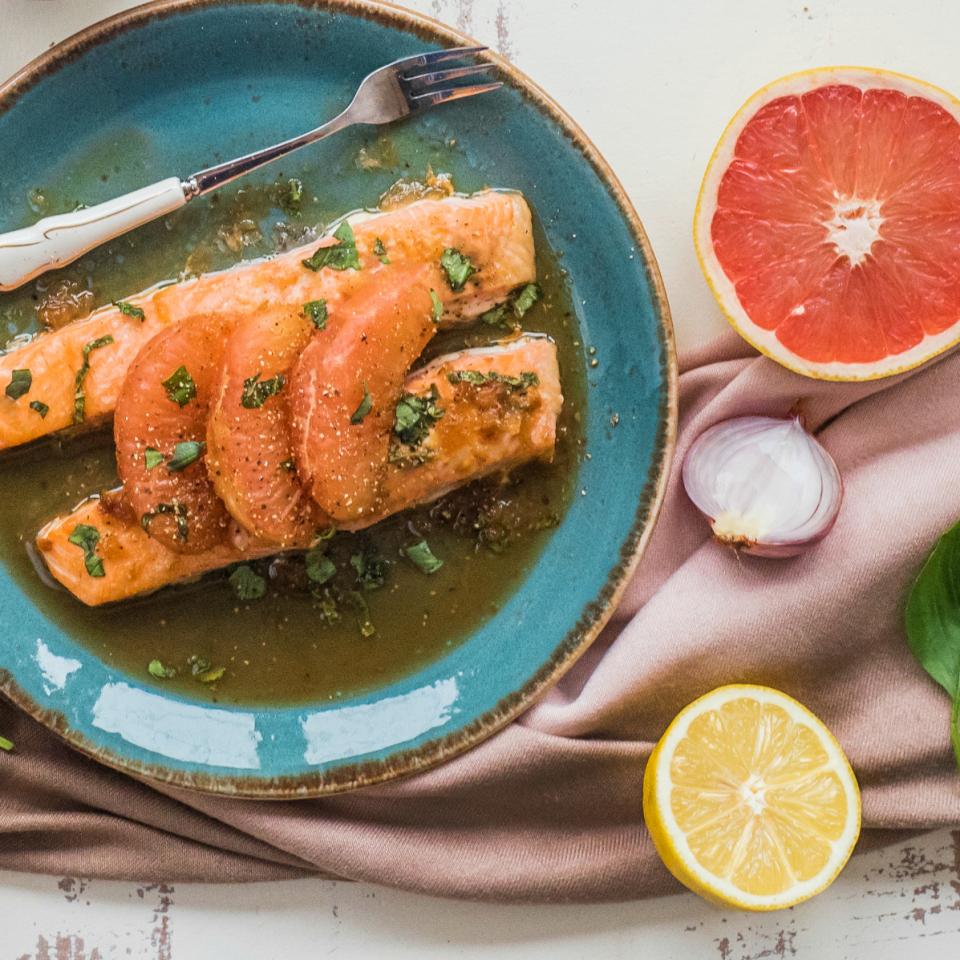 The tang of Florida Grapefruit cuts through the rich flavour of salmon perfectly. This quick and easy recipe makes a satisfying midweek dinner.
Aromatic salmon with Florida Grapefruit
Serves 4 | hands-on time 20 mins | total time 20 mins
4 skinless salmon fillets, 130g each
¼ tsp salt
2 pink Florida Grapefruit
2 tsp olive oil
1 tbsp finely chopped shallot
1 tsp freshly grated ginger
2½ tsp honey
pinch of cayenne pepper
2 tsp lemon juice
2 tbsp thinly sliced basil leaves
1. Preheat the oven to 180°C, fan 160°C, gas 4. Put the salmon in a baking dish and season with salt.
2. Roast the salmon in the oven until cooked through, about 15 minutes.
3. While the salmon is cooking, prepare the sauce. Segment one of the Florida Grapefruit and set the segments aside. Juice the other Florida Grapefruit and set the juice aside.
4. Heat the olive oil in a medium frying pan, over a medium heat. Add the chopped shallot and sauté until softened, about 2 minutes.
5. Add the ginger, Florida Grapefruit juice, honey and cayenne pepper, and bring to a simmer. Cook until the sauce is reduced by about half, approximately 10 minutes. Add the lemon juice and season with salt.
6. Immediately before serving, add the Florida Grapefruit segments and basil leaves to the sauce.
7. Put the cooked salmon onto a serving dish and spoon the sauce over before serving. Serve with couscous or rice.