Maille mustard steak and dauphinoise
---
Prep time: 15 mins
Total time: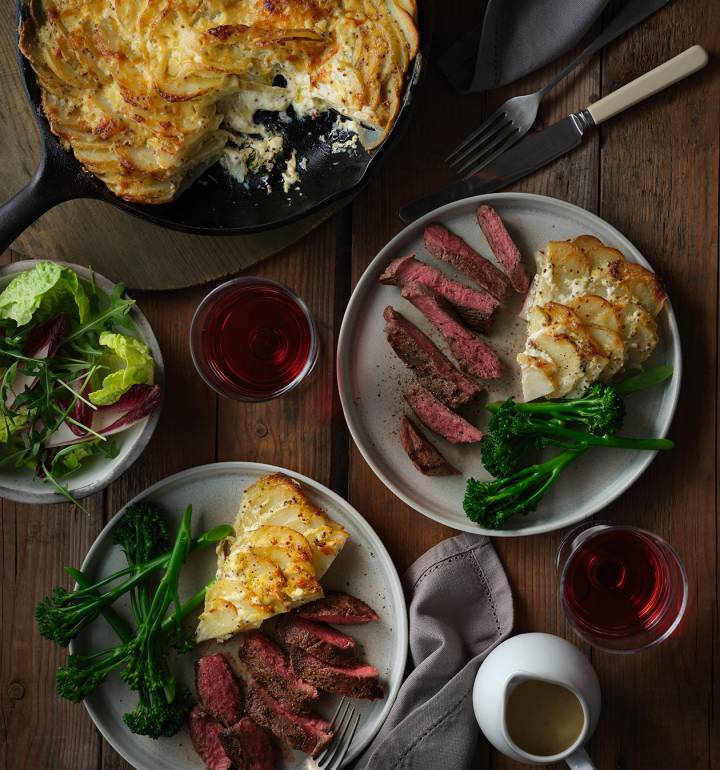 Recipe photograph by Craig Robertson
Maille mustard steak and dauphinoise
Thinly sliced potatoes are dressed in a creamy Maille wholegrain mustard sauce, layered in an oven dish, topped with grated comté and baked in the oven until golden and crisp. Fillet steak is pan-seared and finished in a foaming mixture of butter and Maille Dijon mustard
---
Prep time: 15 mins
Total time:
---
See more recipes
Ingredients
250ml double cream
70g butter
1 garlic clove, lightly crushed
6 sprigs of thyme
3 tbsp Maille wholegrain mustard
4 large Maris Piper potatoes, finely sliced
200g comté, grated
2 fillet steaks, removed from the fridge 30 mins before cooking
2 tbsp Maille Dijon mustard
Step by step
Preheat the oven to 190°C, fan 170°C, gas 5.
Place the cream, 50g of butter, the garlic clove, half the thyme and the Maille wholegrain mustard in a saucepan on the hob. Season with salt and pepper and heat on low until the mixture reaches a low simmer. Remove from the heat and set aside to infuse and cool, then remove and discard the thyme.
In an ovenproof dish, arrange the potato slices in a neat, vertical spiral until they are tightly packed into the dish.
Ladle the cooled cream mixture over the potato slices and top with the grated comté. Bake in the oven for 1 hour or until the potato is cooked through and a golden crust has formed.
Set a large frying pan on medium-high heat. Oil and season each side of the steaks and place in the pan. Cook on each side for 3-4 minutes for medium-rare. Add the remaining butter and thyme and the Maille Dijon mustard to the pan and baste the steaks for a further minute. Remove the steaks from the pan and allow to rest, loosely covered with foil, for 10 minutes.
Serve the steaks with the dauphinoise and vegetables of your choice.
Don't miss

---