No-bake Piña Colada fingers
---
Prep time: 20 mins
Total time: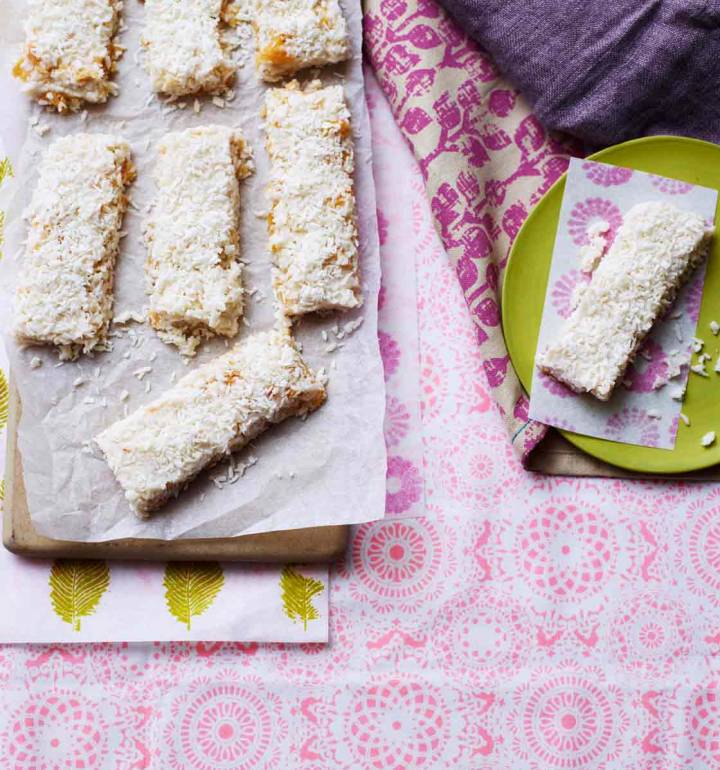 Photographed by Tara Fisher
No-bake Piña Colada fingers
---
Prep time: 20 mins
Total time:
---
See more recipes
---
Nutritional information (per serving)
---


Ingredients
1 x 200g packet creamed coconut
6 tbsp coconut oil
2 tbsp honey
1½ tsp vanilla extract
1 tsp lemon juice
a pinch of sea salt
100g dried pineapple, snipped into small pieces using scissors
2 tbsp golden or white rum (optional)
75g desiccated coconut, plus extra for the topping
a large pinch of freshly grated nutmeg
Step by step
Make up to 5 days ahead and store chilled in an airtight container (take out of the fridge 30 minutes before serving). They can also be frozen.
Line a 20cm square tin with baking paper. Place the unopened packet of creamed coconut in a bowl of hot water from the tap for 5 minutes to melt it (massage the packet to help its contents soften).
When the creamed coconut is soft all the way through, pour into a bowl and mix in the coconut oil, honey, vanilla, lemon juice, a pinch of sea salt, pineapple and rum, if using.
Stir in the desiccated coconut and nutmeg evenly to create a doughy consistency.
Pour the mixture into the prepared tin and press down with a palette knife or the back of a spoon to level. Sprinkle with the extra coconut to coat. Set in the fridge for 30 minutes until hard (or longer is fine).
Turn out onto a board and slice into 24 pieces.
This recipe was inspired by the Paradise bar – a popular recipe in our cookbook. We've added dried pineapple pieces, a splash of rum and a sprinkle of nutmeg to make a tropical-tasting, high-energy, low-sugar snack with plenty of protein and nourishing natural fats. This satisfying no-bake sweet transports well in the cooler months – we make big batches to freeze so that we can grab one to take to work or offer to guests as a dessert. If you're making them for kids, just leave out the rum.
Don't miss

---