Spiced crab salad with fennel, grapefruit and chicory
Serves
4 as a starter
|
prep
20 mins (40 if using crab claws)
|
total time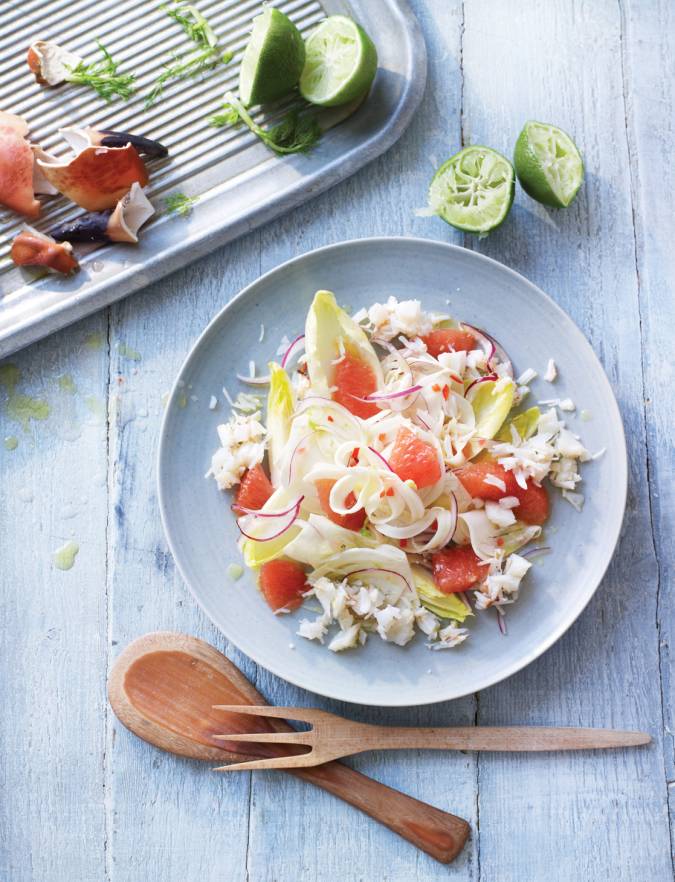 Nutritional information (per serving)
See more
Ingredients
2 x 380g packs frozen Taste the Difference cooked Scottish crab claws or 2 x 100g pots Taste the Difference Orkney white crab meat*

zest of 1 lime

juice of 3 limes

1 bird eye chilli, finely diced

4 tbsp extra-virgin olive oil

2 pink grapefruit

1 head fennel, trimmed and halved

2 heads chicory, leaves separated

1⁄2 small red onion, halved and finely sliced
Get ahead
Defrost the claws overnight. You can prepare each part of the dish 3 hours ahead and chill. Assemble at the last minute.
Defrost the crab claws overnight in the fridge. Crack open each claw at the score marks with your hands. Alternatively, place in between layers of kitchen paper and, using a rolling pin, strike each section to break open. Pull out the flesh and put in a bowl, discarding the cartilage from inside the pincers. Squeeze the excess liquid out of the claw meat (or from the ready prepared crab meat, if using the pots).
Place the crab meat in a small bowl with the zest of 1 lime, 2 tablespoons lime juice, the chilli and 2 tablespoons olive oil. Mix and season to taste. Cover and chill until needed.
Using a sharp knife, slice the top and bottom off each grapefruit, then cut away the peel and pith. Holding one grapefruit over a bowl, cut away each segment by running a serrated knife just inside the segment partitions. Once all the segments are in the bowl, repeat with the other grapefruit. Discard (or drink) any juice.
Finely slice the fennel and add to the grapefruit, then add the chicory leaves and the onion. Cover and chill.
When you are ready to serve, add 2 tablespoons olive oil and 2 tablespoons lime juice to the grapefruit and leaf mixture, as a dressing, then season. Mix and arrange on 4 plates. Spoon the crab around each salad. Serve immediately.
This refreshing salad can be made with the meat from frozen crab claws or from pots of chilled white crab meat