Roquefort cheese soufflés
Serves
8
|
prep
20 mins
|
total time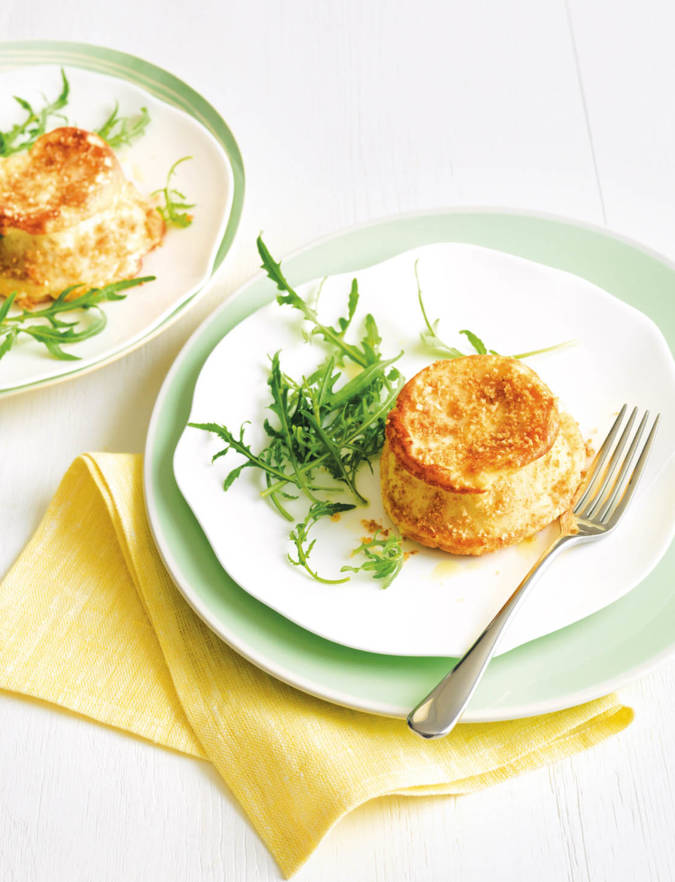 Nutritional information (per serving)
See more
Ingredients
To line the moulds:
50g soft unsalted butter

50g dry breadcrumbs, plus a little extra to coat
For the soufflé base:
50g unsalted butter

50g plain flour

300ml whole milk

150g Roquefort cheese, crumbled
For the soufflé mix:
a large squeeze of lemon juice

10 medium egg whites

sea salt
Get ahead
Make to the end of step 4 the day before; reheat for 10 minutes to serve.
Brush the insides of 8 x 200ml soufflé dishes or ramekins (8cm x 6cm deep) with the soft butter using a pastry brush, then sprinkle over the breadcrumbs so they coat the dishes completely. Tip out any excess and set the dishes aside.

Preheat the oven to 200°C, fan 180°C, gas 6 and place a baking tray on the middle shelf of the oven to preheat. Put the butter and flour in a pan over a medium heat and stir for 4-5 minutes without letting it colour. Gradually stir in the milk to form a béchamel sauce. Lower the heat and continue to cook for 5 minutes, stirring now and then. Remove from the heat and leave to cool a little, then add the Roquefort cheese and stir until thoroughly melted into the mix. Transfer the mixture to a large bowl.

In a separate bowl, whisk the lemon juice into the egg whites until very soft peaks form. Add two pinches of sea salt and continue whisking until you have soft (not firm) peaks. Quickly whisk a third of the egg whites into the cheese mixture to lighten the base, then carefully fold in the remaining egg whites. Check the seasoning, adding sea salt, freshly ground black pepper and lemon juice, if necessary.

Tip

Whisking a little lemon juice with the egg whites helps prevent them from separating. The different cheeses you could use in a soufflé are endless – goats' cheese, Stilton, Gruyère and Stinking Bishop are just a few other suggestions.

Fill the soufflé dishes to the top with the mixture. Hold a spatula flat against the rim of the dishes and scrape any excess mixture away. Run your thumb and index finger around the rim of the dishes – this will loosen the soufflé mixture from the edge so it can rise more easily and evenly. Put the dishes on the preheated baking tray and bake for 15 minutes. Remove from the oven and leave to cool. Loosen the soufflés from their dishes and invert them on to a tray lightly coated with breadcrumbs. Turn them in the breadcrumbs until lightly coated all over, then place in the fridge.

To serve, preheat the oven again to 200°C, fan 180°C, gas 6. Reheat the soufflés in shallow ovenproof dishes or on a baking tray for about 5 minutes until hot. Serve with a dressed green salad.