Mushroom and chestnut soup with truffle oil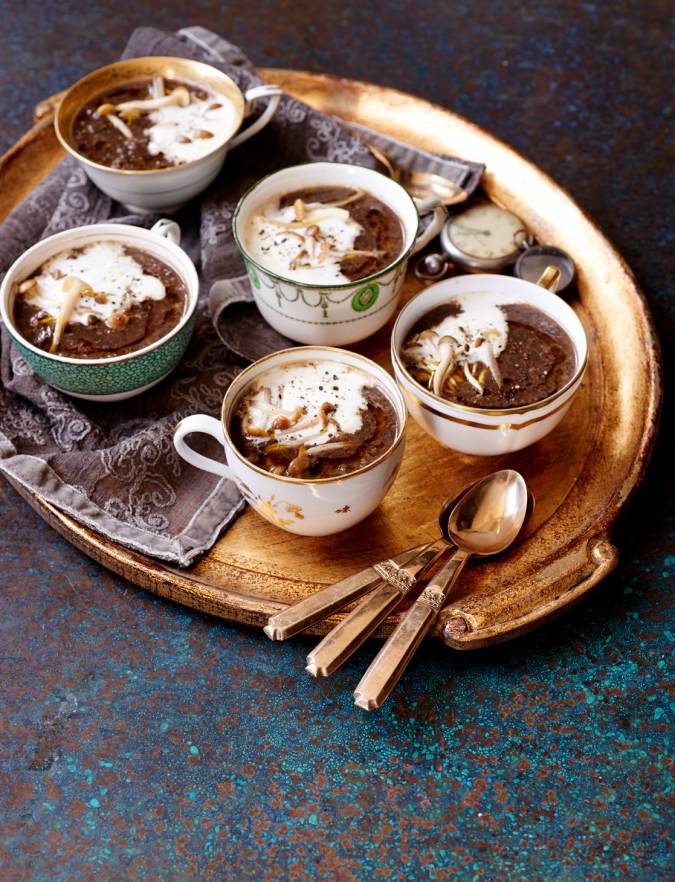 Nutritional information (per serving)
See more
Ingredients
5g dried porcini, snipped

25g unsalted butter

1 garlic clove, crushed

1 x 250g pack large flat mushrooms, chopped

100g cooked chestnuts

3 tbsp dry sherry

500ml vegetable or chicken stock
To serve
1 x 140g pack exotic mushrooms

20g unsalted butter

150ml whipping cream

truffle oil (optional)
Get ahead
Make the soup up to 2 days ahead, cool and chill. Can be frozen.
Place the porcini in a small bowl, cover with boiling water and leave to soak for about 5 minutes.
Melt the butter in a pan and add the garlic, the chopped flat mushrooms and seasoning. Cook, covered, for 5 minutes or until the juices are released.
Add the chestnuts, porcini and their soaking liquor (minus any grit at the bottom of the bowl), plus the sherry and stock. Bring to the boil and simmer for 10 minutes. Blend; season to taste.
Meanwhile, prepare the exotic mushrooms and cook, in batches according to type, in the butter, until golden. Whip the cream to soft peaks.
Pour the soup into small cups and float some of the cream on top. Add a few exotic mushrooms and a drizzle of truffle oil, if using, to serve.
Serve in small cups as an elegant starter; to serve a larger amount in bowls, double the quantities.