Fragrant chicken skewers with almond dipping sauce
---
Prep time: 25 mins
Total time: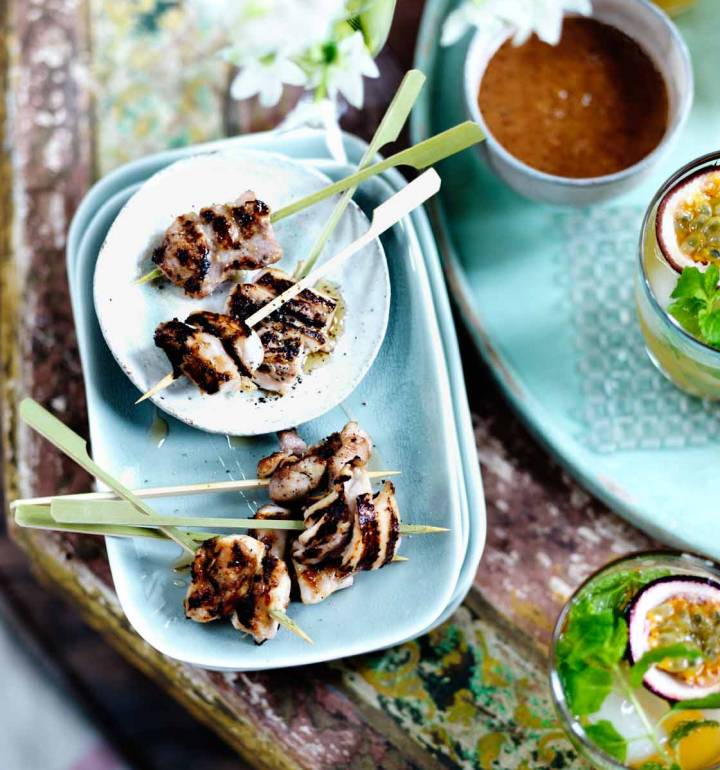 Photograph by Karen Thomas
Fragrant chicken skewers with almond dipping sauce
---
Prep time: 25 mins
Total time:
---
See more recipes
---
Nutritional information (per serving)
---


Ingredients
2 x 460g packs skinless and boneless chicken thigh fillets
For the marinade:
2 garlic cloves, peeled
a small knob of root ginger, about 2cm, peeled
1 stick of lemongrass, chopped
1 tbsp light soy sauce
1 tbsp clear honey
For the dipping sauce:
3 shallots, peeled and halved
1 bird eye chilli, roughly chopped
2 fat garlic cloves, peeled
3 tbsp vegetable oil
3 tbsp clear honey
3 tbsp light soy sauce
a squeeze of lemon juice
6 tbsp almond butter
Step by step
Make up to the end of step 4 up to 2 days ahead, cover and chill both the sauce and chicken. The sauce will need to come back to room temperature before you serve it; loosen it with a little hot water if it is too thick.
Soak 40 short flat-ended (or regular) bamboo skewers in cold water.
Whiz the ingredients for the marinade in a food processor (a mini one is ideal) until finely chopped. Trim the chicken and chop it into 40 bite-sized pieces and toss with the marinade. Chill for a few hours or, ideally, overnight.
For the sauce, whiz the shallots in the food processor with the chilli and garlic. Heat the oil in a frying pan and fry the mix for 2-3 minutes or until the shallots have softened. Add the honey, soy, lemon juice and almond butter and stir over the heat a little longer; cool to room temperature.

Dainty one-bite chicken skewers to serve with the cocktails; a bed of curls of carrot, cucumber and spring onion looks pretty as a base if you serve them on a platter. Ideally, start this recipe the day before so you can leave the chicken to marinate overnight. If you use wooden skewers, soak them in warm water for 15 minutes first so they don't burn when you cook the chicken.

Thread a piece of chicken onto the end of each wooden skewer.
Preheat the grill to a high setting (or preheat a large griddle pan). Grill or griddle the chicken for 12-14 minutes until golden and cooked through; turn the chicken regularly and baste it with the marinade as it cooks
Tip the dipping sauce into a bowl and stir in 3 tablespoons of water to loosen it. Serve with the chicken skewers.
Don't miss

---