Mexican quinoa salad
---
Prep time: 20 mins
Total time: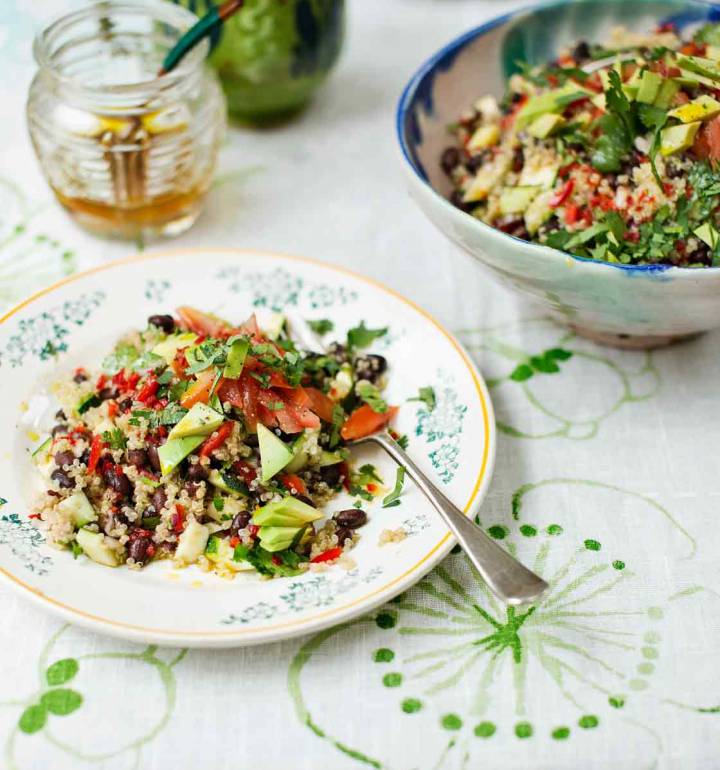 Recipe photograph by Laura Edwards.
Mexican quinoa salad
---
Prep time: 20 mins
Total time:
---
See more recipes
---
Nutritional information (per serving)
---


Ingredients
For the dressing
1 tsp ground cumin
4 tbsp extra-virgin olive oil
2 tbsp flaxseed oil
juice of 2 limes (about 3 tbsp)
1 garlic clove, finely grated or crushed
fresh chilli, to taste, or a pinch of cayenne pepper
sea salt
For the salad
1 x 300g pack quinoa, soaked overnight
300ml bone broth (homemade chicken stock) or water
2 medium courgettes, diced
2 red sweet pointed peppers, deseeded and diced
1 medium red onion, finely diced
2 x 380g cartons black beans, drained
1 x 31g pack coriander, leaves only, roughly chopped
2 medium avocados, stoned and diced
3 large tomatoes, diced
Step by step
Soak the quinoa the night before. Make the salad up to a few hours ahead – squeeze some extra lime juice over the avocado to prevent it browning.
In a medium saucepan, toast the ground cumin on a medium heat for about 1 minute until fragrant, stir to prevent it burning, then tip out into a jam jar.
In the same pan, add the soaked quinoa, cover with the bone broth or water and bring to the boil. Cover and simmer over a low heat for 12 minutes.
Meanwhile, add the rest of the dressing ingredients to the jar and shake to combine. Season to taste with sea salt and pepper.

If you don't have time to soak the quinoa, cook it in 750ml water for 15 minutes until the water is absorbed, then transfer to a large plate to cool.

Put the diced courgette, red pepper, onion, beans and most of the coriander into a large serving bowl. Pour over most of the dressing, reserving a few tablespoons, and toss everything together.
Once the quinoa is cooked, fluff it up with a fork and allow it to cool.
When the quinoa is completely cool, add to the bowl – along with some of the remaining coriander – and use your hands to mix.
Serve with the diced avocado and tomatoes on top, and sprinkle with any remaining coriander. Season with sea salt and pepper, and drizzle over the rest of the dressing.
Don't miss

---