Piccalilli
Makes
6 350g jars
|
prep
45 mins
|
total time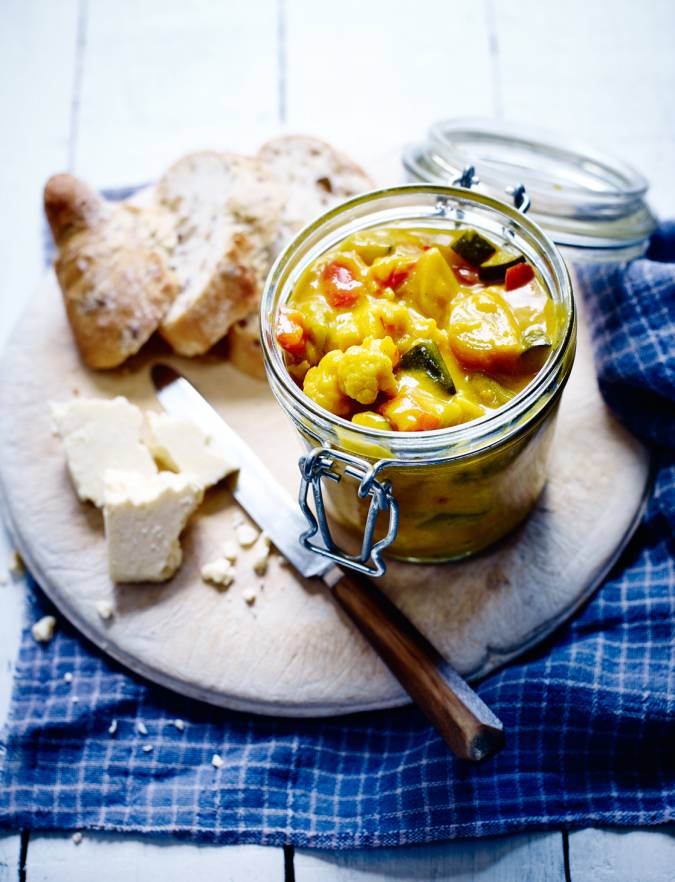 Ingredients
225g coarse sea salt

1 small cauliflower (about 500g)

1 x 400g pack shallots, peeled

2 small, firm courgettes

225g runner beans, trimmed

1 red pepper, deseeded
For the sauce
2-3 garlic cloves, roughly chopped

30g root ginger, peeled and chopped

1-2 red chillies, chopped

1 large cooking apple, peeled

750ml white wine vinegar, plus extra, if needed

225g caster sugar

1 x 57g tin English mustard powder

1 tbsp turmeric

30g cornflour
Get ahead
The vegetables must be prepared and brined overnight.
Heat the salt in 500ml boiling water until dissolved. Dilute it with 1 litre of cold water, then pour this into a very large glass or china bowl and put aside to cool.
Prepare the vegetables, making them all the same size, around 2cm pieces. Separate the cauliflower into small florets, discarding any thick stems. Quarter the shallots and cut the courgettes, beans and pepper into 2cm pieces. Put the vegetables in the cold brine, cover and leave for 12-18 hours.The brining helps keep the vegetables crisp and crunchy.
The next day, preheat the oven to 120°C, fan 100°C, gas 2. Drain the vegetables and wash them thoroughly under a cold running tap. Put some tea towels or kitchen paper on the counter and lay the vegetables in a single layer, to drain for about 20 minutes. Put 6 x 350g jam jars and their lids in the oven to sterilise them while finishing the recipe.

Tip Use a variety of vegetables; radishes, baby carrots and fennel are all delicious in piccalilli – just remember that all the vegetables should be cut to roughly the same size.

For the sauce, in a small food processor whiz the garlic, peeled ginger and chillies together to make a paste. If you want a milder sauce, remove the seeds from the chillies before you process them.
Grate the peeled apple, discarding the core. Put the apple and the spice paste into a large heavy-bottomed pan, around 6-8 litre capacity, and mix in 250ml vinegar. Place the pan on the heat, bring to a simmer, cover and cook for 5 minutes.
Mix the sugar, mustard powder, turmeric and cornflour together in a bowl and, using another 250ml of the vinegar, gradually mix to a smooth liquid. Add the remaining 250ml vinegar then scrape this into the pan.
Over a low heat, bring the sauce to a simmer, stirring constantly, then cook for 3-4 minutes or until you can no longer taste raw cornflour. The sauce should be very thick at this stage.
Put the vegetables into the pan and stir well. The sauce may not completely cover them, but stir them around. Cook over a gentle heat, stirring often, until the vegetables just soften, about 10 minutes. The sauce may thin a little as some of the juice from the vegetables comes out.
Spoon the piccalilli into the hot jars, packing it down well and making sure the vegetables are covered by the sauce. If you are low on sauce, pour over a little extra vinegar and seal.
Allow them to cool then label and store in a cold, dark place for 6-9 months.
Piccalilli uses a variety of garden vegetables so is a perfect summer pickle to make