Easy peelers and duck salad
---
Prep time: 10 minutes
Total time: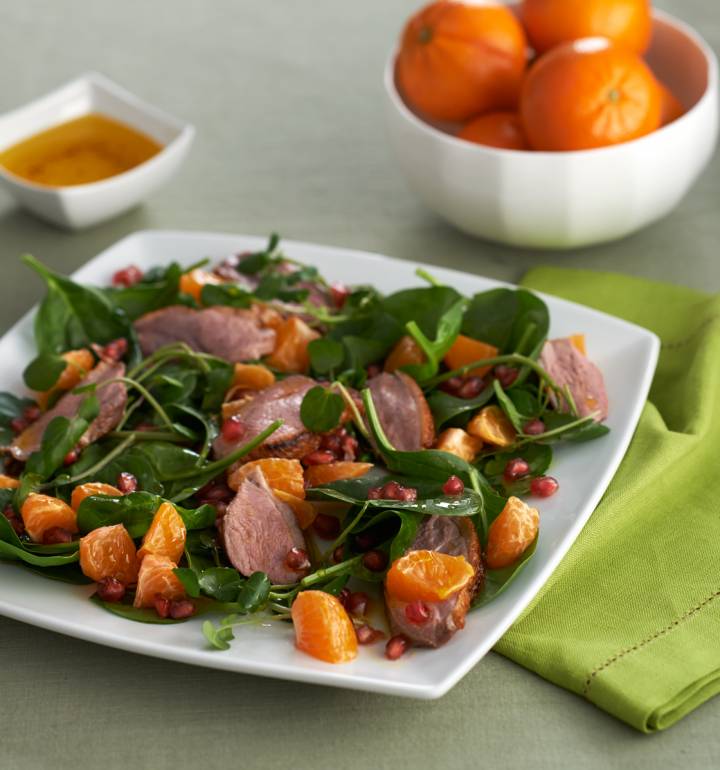 Easy peelers and duck salad
---
Prep time: 10 minutes
Total time:
---
See more recipes
Ingredients
2 duck breast fillets, fat scored
50g baby spinach leaves
40g watercress
2 easy peelers by Sainsbury's, peeled and broken into segments then halved
1/2 pomegranate, seeds only
3 tbsp French dressing
1 tsp Dijon mustard
Step by step
Preheat the oven to 200°C, 180°C, gas 6.
Heat a frying pan until hot then place the duck breasts, skin side down, in the pan and cook for 5-6 minutes. Turn the breasts over and cook for 2-3 minutes then place in the oven to cook for another 8 minutes. Remove from the oven and leave to rest before slicing.
Scatter the baby spinach leaves, watercress, easy peeler segments, pomegranate seeds, and duck slices on a platter. Whisk together the French dressing and Dijon mustard, and drizzle over the salad to serve.
Don't miss

---