Cranberry, fig and almond mincemeat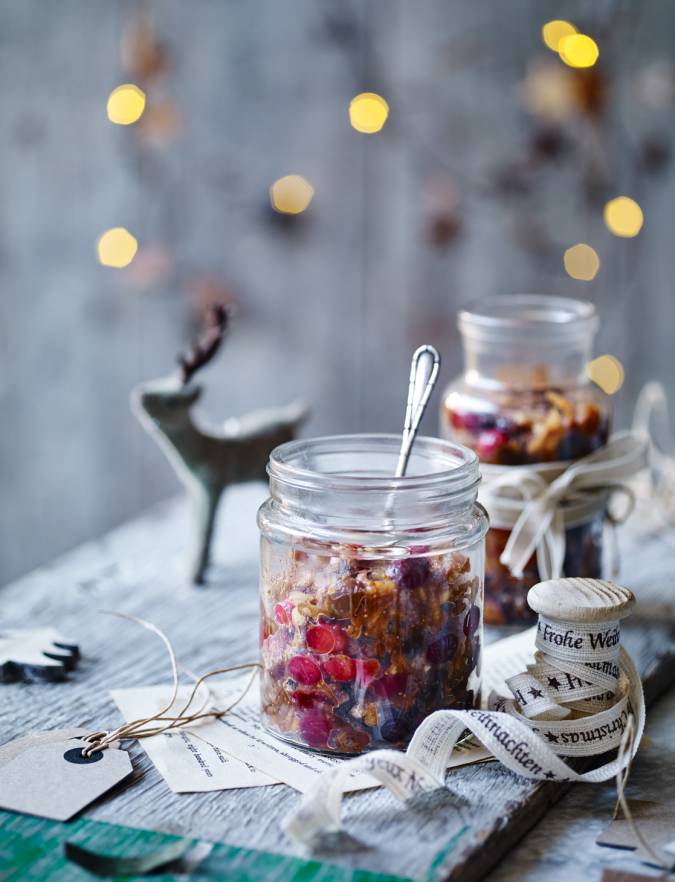 Ingredients
a medium Bramley apple

150g frozen cranberries

75g light muscovado sugar

1 tsp ground mixed spice

1 tsp ground cinnamon

100g finely chopped dried figs

150g sultanas

50g finely chopped blanched almonds

finely grated zest and juice of 1 orange

2 tbsp amaretto liqueur
Peel and coarsely grate the apple. Place in a saucepan with the cranberries, light muscovado sugar, ground mixed spice, ground cinnamon, dried figs, sultanas, almonds and the zest and juice of 1 orange.
Bring to the boil, then reduce the heat to the lowest setting and simmer for 5 minutes until the cranberries are softened.
Remove from the heat, stir in the amaretto and pour into a sterilised 500ml spring-clip jar. You can use it straight away in your mince pie recipes, or it can be stored in a jar for up to 1 month or frozen for up to 6 months. Once opened, store in the fridge for up to 2 weeks.
Forget suet – save a few calories by making this really quick and easy fresh mincemeat – that's veggie too.