Leek and bacon pancake bake
---
Prep time: 25 mins
Total time: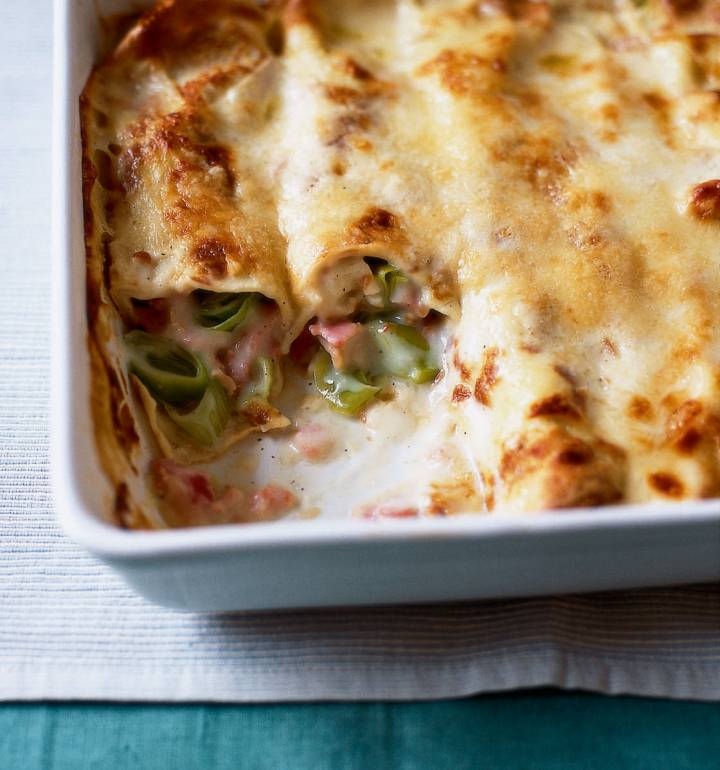 Recipe photograph by Yuki Sugiura
Leek and bacon pancake bake
---
Prep time: 25 mins
Total time:
---
See more recipes
---
Nutritional information (per serving)
---


Ingredients
1 tbsp olive oil
a small knob of butter
2 leeks, trimmed and sliced
225g dry-cure smoked bacon, chopped
1 x 500g tub cheese and ham pasta bake sauce
4 tbsp grated gruyère cheese
For the pancakes
150g plain flour
3 large eggs, lightly beaten
350ml milk
75g butter, melted and cooled slightly
a few knobs of butter, for frying
You will also need
Step by step
Heat the oil and the small knob of butter in a frying or sauté pan and fry the leeks and bacon together for 15-20 minutes until the leeks are tender and the bacon cooked through. Set aside.
To make the pancake batter, sift the flour into a large bowl with a pinch of salt. Make a well in the centre and tip in the eggs. In a jug, whisk together the milk and melted butter and pour this into the well, too. Gradually whisk the liquids into the flour, using a balloon or electric hand whisk.
Preheat the oven to 200°C, fan 180°C, gas 6. To make the pancakes, melt a small knob of butter in a frying pan with a diameter of about 18cm. As it melts, swirl the butter to coat the base. Add 2-3 tablespoons of batter to the hot pan and tilt the pan immediately so the batter runs and covers the surface. Cook for a minute or so, then flip over and cook the other side, adding more butter to the pan as needed.
Continue until you have 8 pancakes. You will probably have some batter leftover, in which case make and eat the pancakes as a cook's perk! As they are ready, layer the pancakes between squares of greaseproof paper so they don't stick together.
Put a spoonful of cheese and ham sauce and some of the bacon and leek mixture in the centre of each pancake. Roll up and place, seam-side down, in a single layer in the ovenproof dish. Spoon over the remaining cheese sauce and sprinkle with the gruyère cheese. Bake for 35-40 minutes, or until golden and bubbling.
Don't miss

---