Italian-style sausage sandwich
---
Prep time: 10 minutes
Total time: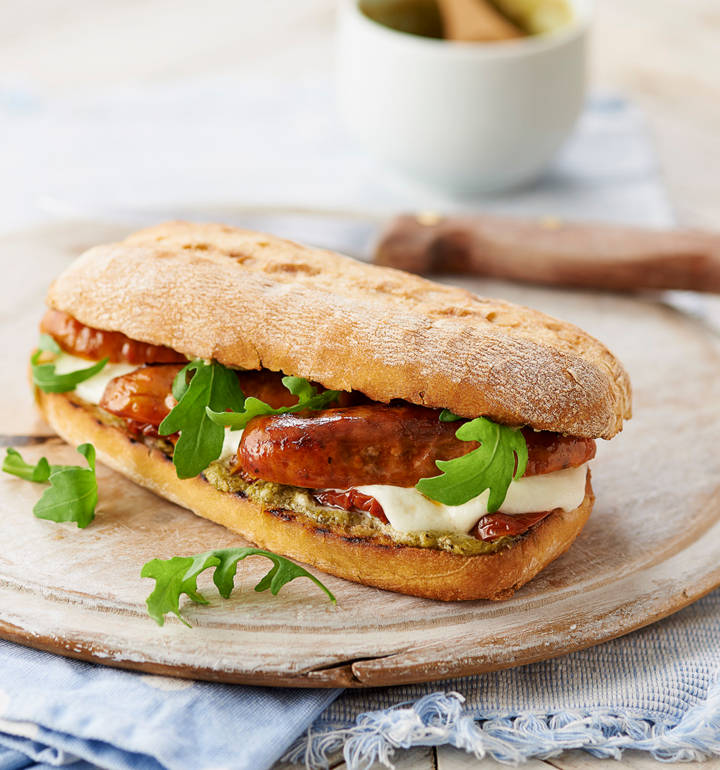 Italian-style sausage sandwich
---
Prep time: 10 minutes
Total time:
---
See more recipes
Ingredients
1 x 400g pack Sainsbury's Taste the Difference chorizo style sausages
4 mini ciabatta rolls by Sainsbury's
olive oil, for rubbing
1 garlic clove, peeled and halved
4 tbsp mayonnaise
2 tbsp green pesto
12 sundried tomatoes, drained and roughly chopped
1 x 150g pack Italian Mozzarella by Sainsbury's, sliced
handful of rocket
Step by step
Cook the sausages according to pack instructions. Set aside to cool, then slice in half.





Meanwhile, slice the rolls in half, rub each with a little olive oil and the cut side of the garlic clove. Heat a griddle pan over a medium heat then add the ciabatta slices, crust side up, and toast until golden. Set aside.





Mix the mayonnaise with the pesto until well combined. Spread onto one half of each ciabatta roll. Layer each with the sun dried tomatoes and slices of mozzarella. Place under a preheated grill until the mozzarella begins to melt.





Make the sandwich by putting 3 sausage halves on each slice, along with a few rocket leaves. Top with the remaining ciabatta halves and serve.




Don't miss

---