Cauliflower and pancetta carbonara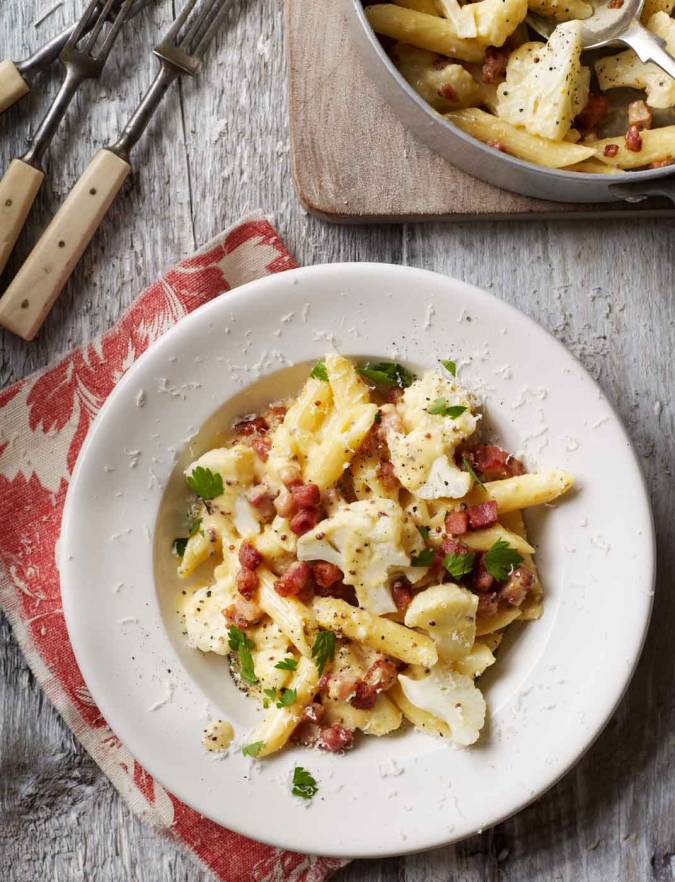 Nutritional information (per serving)
See more
Ingredients
300g penne rigate pasta

1 head of cauliflower, broken into small florets

1 x 206g pack cubetti di pancetta

6 tbsp crème fraîche

2 medium eggs

1 tbsp wholegrain mustard

50g Parmesan, grated

a small handful of flat-leaf parsley, chopped
Bring a large saucepan of salted water to the boil, add the penne and cook for 8 minutes. Add the cauliflower florets and cook for a further 4-6 minutes, until both the pasta and the cauliflower are al dente.
Meanwhile, put the pancetta in a dry frying pan and fry over a medium heat until golden and starting to crisp. Set aside once it's done.
Whisk together the crème fraîche, eggs, mustard and three-quarters of the Parmesan, then season well with freshly ground black pepper (there's no need to add salt at this stage as the pancetta is salty).

Tip The 'rigate' in penne rigate means ridged, and refers to the furrowed surface of the pasta, which helps the sauce cling to it.

When the pasta and cauliflower are cooked, drain them both thoroughly in a colander, then return them to the pan and stir in the crème fraîche mixture and half the pancetta. Serve in four warm bowls, with the parsley and the remaining pancetta and Parmesan over the top.

NOTE: This recipe contains partially cooked eggs.