Pork and chorizo purses
Makes
48
|
prep
30 minutes, plus 20 minutes standing time
|
total time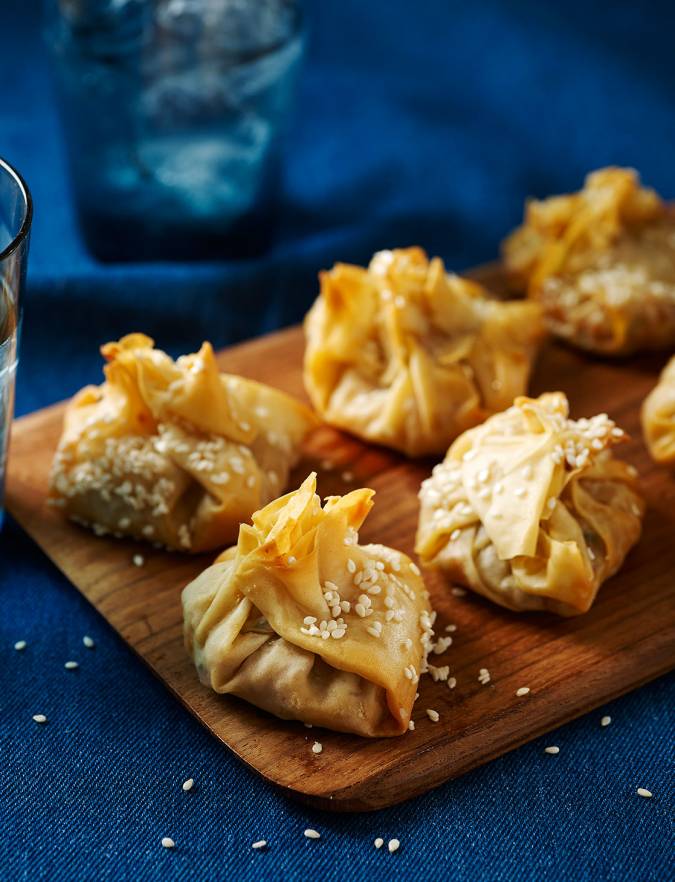 Pork and chorizo purses
Makes
48
|
prep
30 minutes, plus 20 minutes standing time |
total time
Ingredients
2 x 270g packs filo pastry sheets

2 tbsp sesame oil

1 onion, peeled and finely chopped

2 cloves garlic, peeled and finely chopped

1 knob of ginger, peeled and finely chopped

1 x 225g chorizo ring, skinned and finely chopped

1 x 750g 20% fat British pork mince by Sainsbury's

3 tomatoes, finely chopped

2 tbsp tomato paste

1 large bunch coriander, washed and finely chopped

olive oil for brushing

sesame seeds for sprinkling

chilli dipping sauce, optional
Take the filo pastry out of the fridge and out of all the packaging 20 minutes before using. Heat the oil in a large non stick frying pan. Add the onion, garlic and ginger and cook for 5 minutes or until soft.




Add the chorizo and cook for a further 3-5 minutes. Remove from the frying pan and set aside on a plate lined with kitchen roll.




Add the pork mince to the frying pan and brown all over on a medium heat. Add the chorizo and onion mix to the mince with the tomatoes and tomato paste. Cook on a medium heat for a further 12-14 minutes stirring continuously. Stir through the coriander and season.

Allow to cool.



Preheat the oven to 190

°

C, fan 170

°

C, gas 5. Unroll one pack of filo pastry at a time. Cut all the pastry sheets in half vertically and then each half into quarters. Cover the pastry with a damp cloth. Take 1 piece of pastry and brush with olive oil. Lay a second piece of pastry on top, the corners offset. Brush again with olive oil.


Place a dessert spoonful of the mince filling in the centre of the filo and bring up the filo, pinching and scrunching the pastry to seal the pastry together to form a purse. Place on a baking sheet lined with baking parchment. Repeat the process until you have 12 purses.




B

rush the purses with olive oil. Sprinkle with sesame seeds and bake for 12-15 minutes or until the pastry is golden. Continue the process as per above instructions until you have 48 purses. Allow to cool slightly before serving with chilli dipping sauce.