Chorizo, sweetcorn and tomato muffins
---
Prep time: 15 mins
Total time: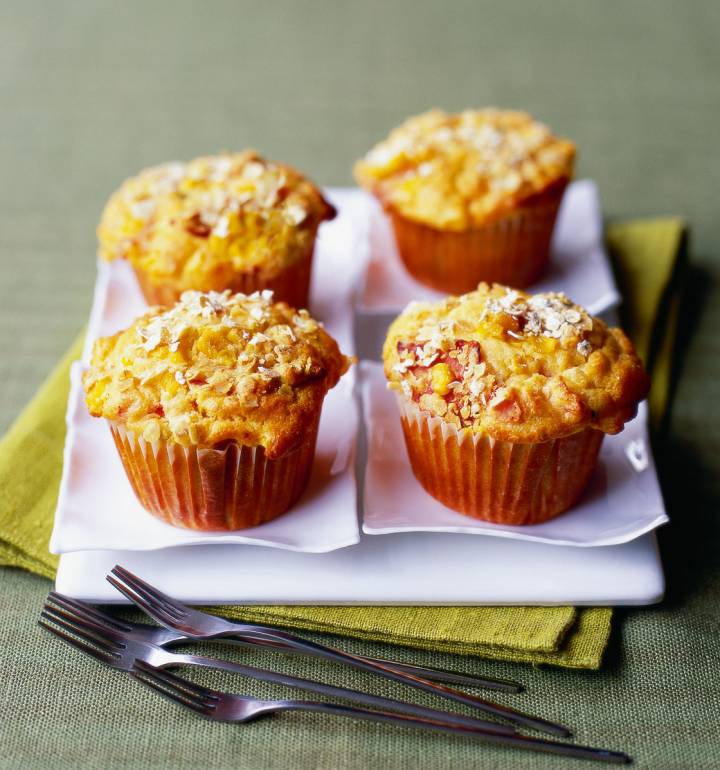 Recipe photograph by Jonathan Gregson
Chorizo, sweetcorn and tomato muffins
---
Prep time: 15 mins
Total time:
---
See more recipes
---
Nutritional information (per serving)
---


Ingredients
100g chorizo, cubed
60g butter
100g baby plum tomatoes
100ml semi-skimmed milk
50g fat-free Greek strained yogurt
2 large eggs
3 tbsp olive oil
150g white self-raising gluten- and wheat-free flour blend
1 tsp gluten-free baking powder
100g fresh, frozen or canned sweetcorn
2 tbsp chopped thyme
2-3 tbsp gluten-free oats, for sprinkling
You will also need:
6-hole muffin tin, well oiled, or lined with muffin cases
Step by step
You can make the muffins a day ahead; reheat them at 190°C, fan 170°C, gas 5, for 15 minutes.
Preheat the oven to 200°C, 180°C fan, gas 6. Dry-fry the chorizo until crispy, remove to a bowl, using a draining spoon, and leave to cool. Melt the butter in a small pan and set it aside. Halve the tomatoes, remove and discard the seeds, then chop the tomato flesh.

Using a balloon whisk and a large mixing bowl, whisk together the milk, yogurt, eggs, olive oil and melted butter into a batter. Don't worry if you have a few small, stubborn blobs of yogurt.

Sift in the flour and baking powder. Add a pinch of salt and scatter the chorizo, chopped tomatoes, sweetcorn and thyme over the top. Using a large metal spoon, fold everything together until combined, but don't overmix. Divide the mixture among the muffin holes in the tin, piling them up high. Sprinkle a few oats on top of each one.

Bake the muffins for 20-25 minutes. Cool for 15 minutes in the tin. Loosen around the edges of each muffin with a knife, then tip each one out of the tin on to a cooling rack. Serve warm or cold.
Don't miss

---