Coconut haupia with griddled pineapple
---
Prep time: 30 mins
Total time: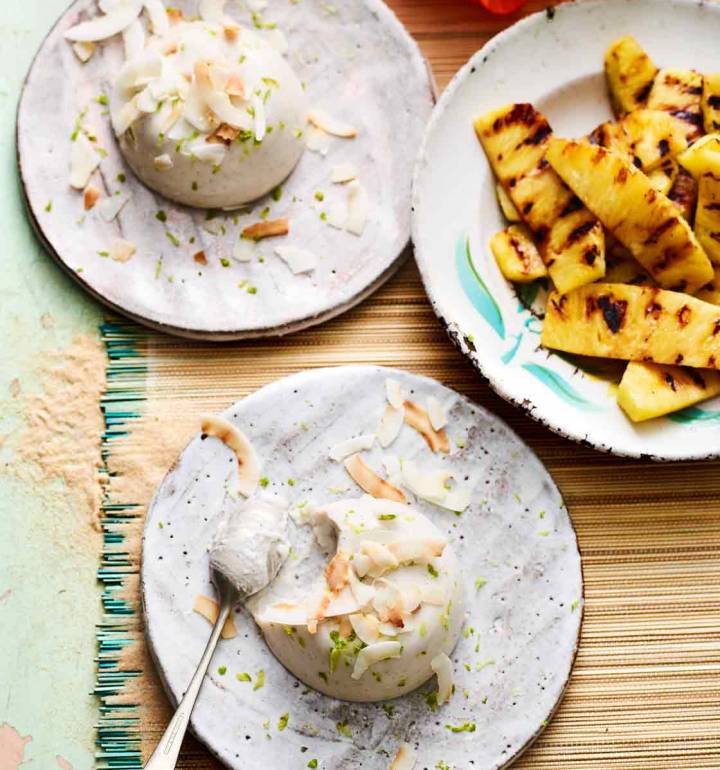 Recipe photograph by Dan Jones
Coconut haupia with griddled pineapple
---
Prep time: 30 mins
Total time:
---
See more recipes
---
Nutritional information (per serving)
---


Ingredients
1 x 400ml tin coconut milk
1 x 250ml carton coconut cream
1 vanilla pod, seeds scraped out
75g caster sugar
3 tbsp cornflour
1 tbsp rum (optional)
1 tbsp sunflower oil, to grease
2 tbsp desiccated coconut flakes
1 small ripe pineapple
zest of 1 lime
Step by step
Make these the day before serving. They will keep for up to 3 days in the fridge.
Mix the coconut milk, coconut cream, vanilla seeds, pod and sugar in a small pan and bring to a simmer, stirring to dissolve the sugar. Put the cornflour in a heatproof jug and whisk just enough of the coconut mixture into it to make a smooth paste, making sure you beat out all the lumps.
Slowly whisk this paste back into the pan of warm coconut milk and bring back to the boil, whisking all the time. Keep whisking for 3 minutes as it boils and thickens, then take off the heat and stir in the rum, if using. Pass through a sieve into 4 lightly greased mini pudding basins or ramekins, discarding the vanilla pod. Allow to cool, then cover and chill until completely set, preferably overnight. Meanwhile, toast the coconut flakes in a dry pan until fragrant; set aside.
When ready to serve, cut the pineapple into long wedges and slice off the skin; cut out the woody core. Lightly grease a griddle pan and put on a medium-hot heat. Grill the pineapple for 2 minutes on each side, without moving it, until charred.
Turn out the puddings, then grate the lime zest over them and sprinkle with toasted coconut. Serve with the pineapple.
Don't miss

---