Chocolate brownie, cherry and honeycomb trifle
---
Prep time: 1 hr
Total time: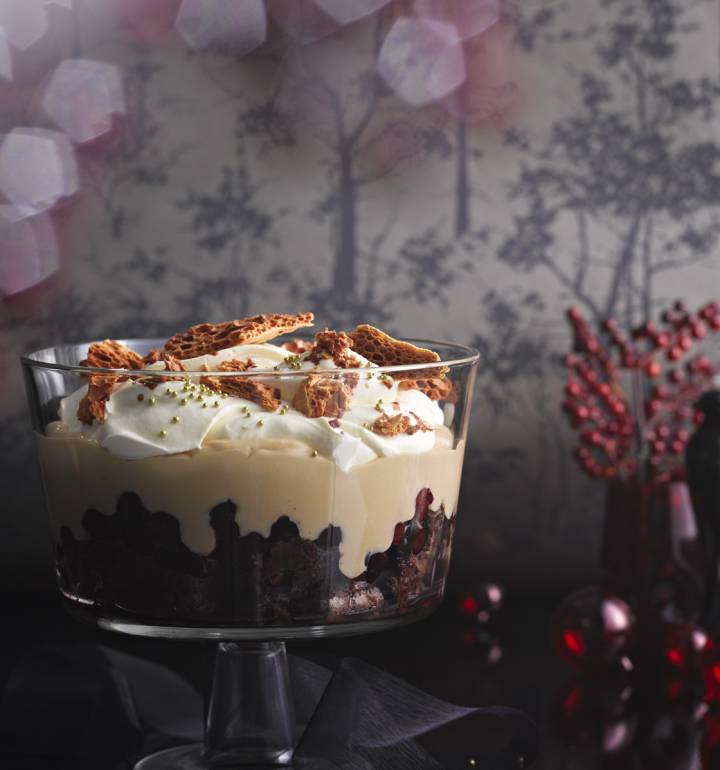 Recipe photograph by Brett Stevens
Chocolate brownie, cherry and honeycomb trifle
---
Prep time: 1 hr
Total time:
---
See more recipes
---
Nutritional information (per serving)
---


Ingredients
125-150ml Pedro Ximenez sherry
480g frozen dark sweet cherries, defrosted
450ml whipping cream
1 x tub edible gold or silver balls
For the brownies:
100g dark chocolate, broken into pieces
100g soft butter
200g light muscovado sugar
2 large eggs, lightly beaten
100g plain flour
For the honeycomb:
75g caster sugar
2 tbsp golden syrup
1 tbsp bicarbonate of soda
For the toffee sauce:
100g butter
150g light muscovado sugar
a pinch of sea salt flakes, crushed
100ml double cream
500g ready-made vanilla custard, chilled
Step by step
Make the brownies, honeycomb and sauce up to 2 days ahead. Store the brownies and honeycomb at room temperature. The (uncut) brownies can also be frozen. Chill the sauce, but bring to room temperature before using.
Preheat the oven to 180°C, fan 160°C, gas 4. For the brownies, melt the chocolate and leave to cool slightly. Beat the butter and sugar until combined, then add the eggs, gradually, mixing all the time. Sift in the flour, pour in the melted chocolate and mix again. Bake in an 18cm-square lined tin for 25 minutes; leave to cool completely.

Line a baking tray with nonstick baking paper. Make the honeycomb by putting the sugar and golden syrup in a medium pan over a gentle heat. Heat, stirring, to melt the sugar. Increase the heat and boil the mixture for 1 minute exactly. Take the pan off the heat and stir in the bicarbonate of soda, pour the frothy mixture on to the baking paper, leave to cool and set.

To make the toffee sauce, melt the butter and sugar together with the salt over a low heat. Increase the heat and bubble for 1 minute. Add the cream and bubble for a further 2 minutes. Take off the heat and leave to cool completely. Mix with the custard and chill.

To assemble, cut the brownies into small squares. Arrange half in the base of a large trifle bowl and drizzle with the sherry. Scatter the remaining brownie squares over the top, followed by the cherries. Spoon the toffee sauce over the cherries. Whip the cream and spoon it on top of the toffee sauce.

Just before serving, break the honeycomb into chunks and scatter as much as you fancy over the trifle with the gold or silver balls.
You will have more honeycomb than you need, but it's delicious to eat on its own so box it up and give it as presents. This trifle is ideal for parties or buffets as all the elements are made ahead, leaving just the final assembly to do when you are ready to serve it
Don't miss

---