Watermelon jelly wedges
---
Prep time: 20 mins
Total time: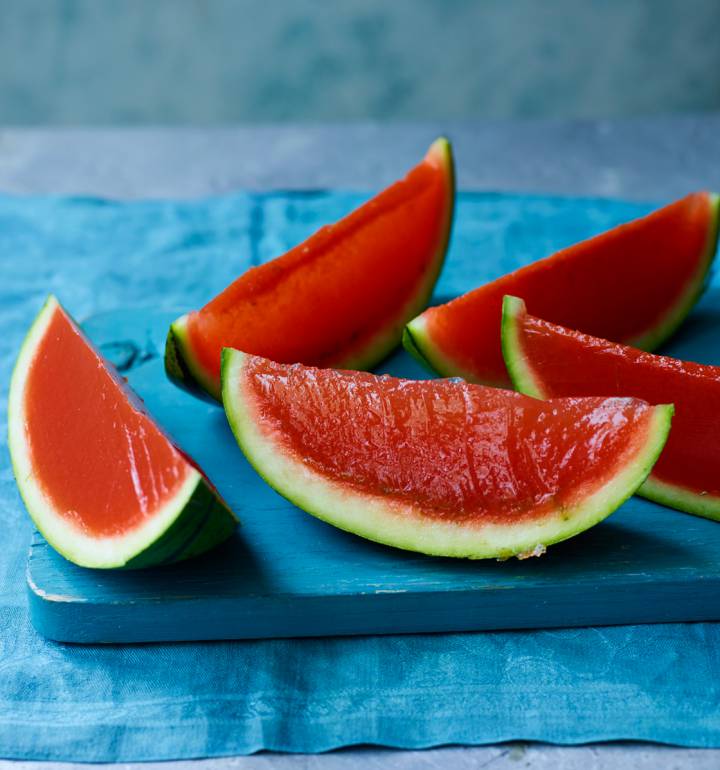 Recipe photograph by Tara Fisher
Watermelon jelly wedges
---
Prep time: 20 mins
Total time:
---
See more recipes
---
Nutritional information (per serving)
---


Ingredients
A 2.5kg watermelon, halved lengthways
100g caster sugar
14 sheets leaf gelatine
zest and juice of 2 limes
Step by step
Wrap in clingfilm once set and eat within 3 days
Remove the watermelon flesh, cutting with a serrated knife around the edges and scooping out with a spoon. Transfer the flesh and pips into a food processor and blitz until smooth. Strain the pulp through a sieve to extract all the juice (discard the pulp). Measure out the juice to 1 litre (keep any leftover for smoothies).
Measure 200ml of the watermelon juice into a pan on a low heat and add the sugar. Stir until dissolved, then simmer for 2 minutes. Remove from the heat and cool a little in the pan.
Sit each watermelon shell in a bowl to keep it level. Soak the leaf gelatine in a bowl of cold water for 5 minutes.
Squeeze out the excess water from the gelatine, then add the leaves to the warm watermelon mixture, stirring to dissolve. Pour into a jug with the remaining 800ml watermelon juice, plus the lime zest and juice. Mix together, then carefully pour the jelly mix into each watermelon half.
Transfer to the fridge and allow to set for at least 8 hours, or preferably overnight. When you are ready to serve, use a serrated knife to cut the watermelon into about 12 wedges.
Don't miss

---