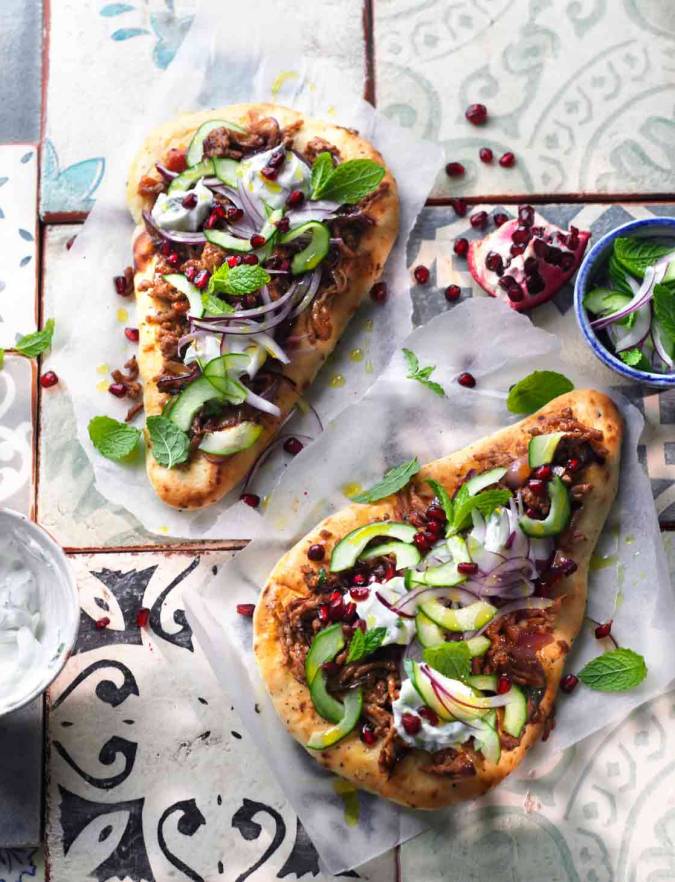 Nutritional information (per serving)
See more
Ingredients
1 x 250g pack lamb mince

1 tbsp olive oil

1 red onion, finely sliced

3 garlic cloves, crushed

1 tsp ground cumin

1 tsp ground coriander

1 tsp ground cinnamon

1 x 230g tin chopped tomatoes

1 tbsp finely chopped mint

1 x pack of 2 Taste the Difference flame-baked garlic and coriander naans

½ x 170g tub thick authentic Greek yogurt

1/3 cucumber, deseeded and sliced

½ pomegranate, seeds only
Preheat the oven to 200°C, fan 180°C, gas 6, and preheat a large baking tray. Heat a large, lidded, nonstick pan; brown the lamb for 3-4 minutes, breaking it up. Using a slotted spoon, transfer the mince to a plate, leaving any fat behind. Add the oil and most of the onion to the pan and gently cook, covered, for 5 minutes.
Stir in the garlic (reserving a tiny amount for the yogurt) and spices and cook for 2 minutes. Return the lamb to the pan, add the chopped tomatoes, stir well and cook, uncovered, for 5 minutes or until thick. Stir in the chopped mint; season to taste.
Place the naans on the preheated baking tray and spoon on the lamb mixture; bake for 5 minutes.

Tip In Turkey, these are known as lahmacun – the toppings vary, often they're served with tahini sauce, a sprinkling of sumac and a drizzle of pomegranate molasses, too.

Mix the yogurt with the rest of the garlic; season. Scatter the remaining onion, the cucumber, pomegranate seeds and the baby mint leaves over the pizzas and add spoonfuls of yogurt.