Three-cheese roulade with piquante peppers and olives
Serves
6 (or 12 as a starter)
|
prep
45 mins
|
total time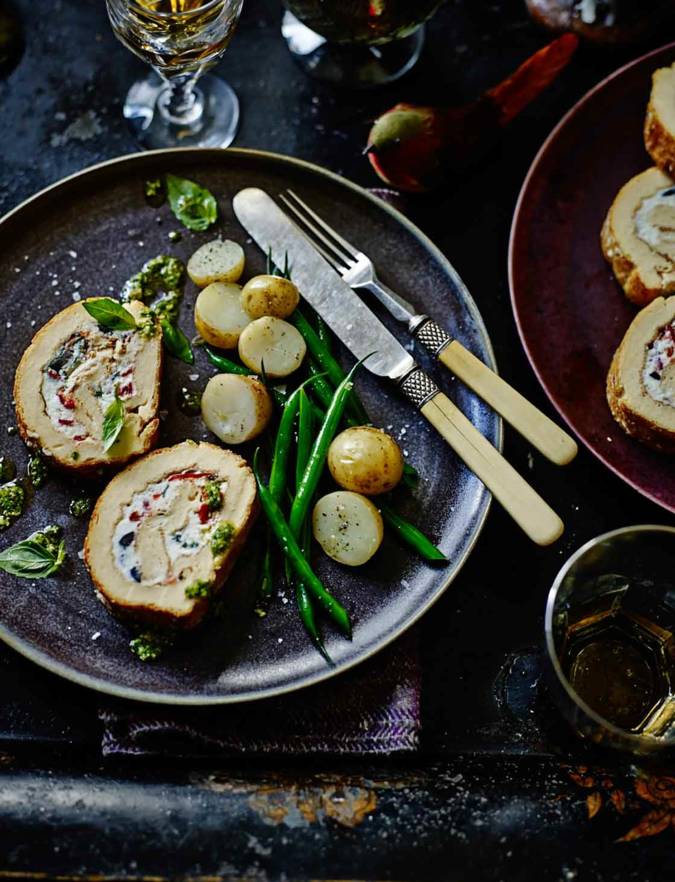 Nutritional information (per serving)
See more
Ingredients
500ml milk

75g butter

100g plain flour

7 medium eggs, separated

100g Parmesan cheese, or vegetarian equivalent, finely grated, plus 25g extra

a pinch of cayenne pepper

125g soft rindless goats' cheese (such as Abergavenny), crumbled

120g crème fraîche or soured cream

1 x 250g tub ricotta, drained

40g mild piquante peppers (sold in a jar), drained and roughly chopped

40g Sunsoaked tomatoes, drained and roughly chopped

30g pitted black olives, chopped

a handful of basil leaves, chopped, plus small leaves to garnish

75g fresh basil pesto

1 tbsp extra-virgin olive oil
Get ahead
Chill the roulade for at least 4 hours ahead before slicing, or overnight is fine. Reheat according to the recipe. It can be made up to the end of step 4 and frozen.
Preheat the oven to 200°C, fan 180°C, gas 6. Grease and line a Swiss roll tin (about 26cm x 37cm) with baking paper.
Bring the milk up to the boil in a small pan and set to one side. Melt the butter in a medium-sized pan, add the flour and cook for a minute over a medium heat, stirring. Take off the heat and gradually stir in the warmed milk. The mixture will seem quite stiff but don't worry. Return to the heat and stir for 2 minutes until smooth and thick. Take the pan off the heat, cool for a minute; stir in the egg yolks, 50g of the Parmesan, the cayenne pepper and some seasoning.
Put the egg whites into a large, clean bowl and whisk until they form soft peaks. Fold into the sauce, a third at a time, using a large metal spoon. Spread the mixture into the prepared tin and sprinkle the surface with another 25g of the Parmesan cheese. Bake for 15 minutes until puffed up and golden brown. Remove from the oven and leave to settle for 5 minutes.
Lay a large piece of baking paper onto the work surface, carefully turn the roulade out onto it; remove the paper and leave it to go cold.
Meanwhile, mix the goats' cheese with the crème fraîche or soured cream until smooth, then mix in the ricotta, the remaining 25g of Parmesan cheese and some seasoning.
Once cold, carefully spoon the goats' cheese mixture over the surface of the roulade to within 2.5cm of each long edge and scatter with the chopped piquante peppers, Sunsoaked tomatoes, black olives and basil. Starting with one long side, and using the paper to help you, tightly roll the roulade, until it is seam-side down. Wrap securely in the paper, then some clingfilm; lift onto a baking sheet and chill for at least 4 hours.
To serve, unwrap the roulade and cut it into 12 slices about 3-4cm thick. Lay them flat on a baking sheet lined with nonstick paper and leave to come back to room temperature. Sprinkle with the extra 25g Parmesan and warm in the oven set at 180°C, fan 160°C, gas 4, for 5-6 minutes, but keep an eye on them to make sure the filling doesn't melt and run out. Meanwhile, mix the pesto with the extra-virgin olive oil and check the seasoning.
Lift the roulade slices onto warmed plates and serve with the pesto on the side, garnished with some small basil leaves.