Sweet potato rostis with fried eggs and avocado salsa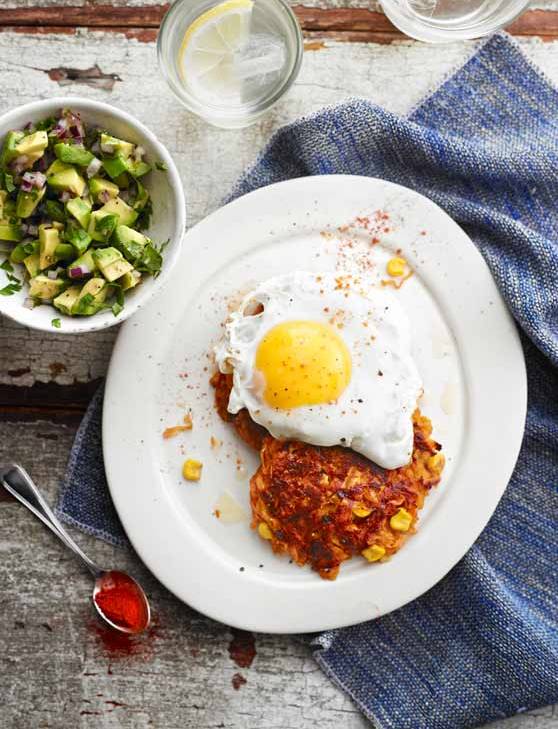 Nutritional information (per serving)
See more
Ingredients
1 sweetcorn cob (or use 100g sweetcorn from a tin)

300g sweet potato, peeled and coarsely grated

1 small red onion

3 large eggs

½ tsp smoked paprika, plus extra to finish

6 tbsp plain flour

2 tbsp vegetable oil

1 ripe avocado

juice of ½ lime

a handful of coriander leaves, roughly chopped
Using a sharp knife, cut the kernels of sweetcorn from the cob and put them in a large bowl with the sweet potato. Finely slice the red onion and put three-quarters of it in with the sweet potato and corn.
Beat one of the eggs with the smoked paprika and some salt and pepper. Sprinkle the flour over the sweet potato mixture, add the beaten egg and mix together thoroughly with your hands.
Preheat a large frying pan with 1 tablespoon oil. Divide the rosti mixture into 4 and squeeze between your hands to form loose patties, then put in the frying pan and flatten slightly. Fry on a medium heat for 8-10 minutes, turning carefully once.
Meanwhile, peel and dice the avocado. Finely dice the reserved red onion slices. Toss the avocado and onion with the lime juice, coriander and some salt and pepper.
When the rostis are cooked, transfer to a plate, cover and keep warm. Add the remaining oil to the frying pan, fry the 2 remaining eggs one at a time until cooked to your liking.
Serve the rostis topped with the fried eggs with the avocado salsa on the side. Sprinkle with smoked paprika.