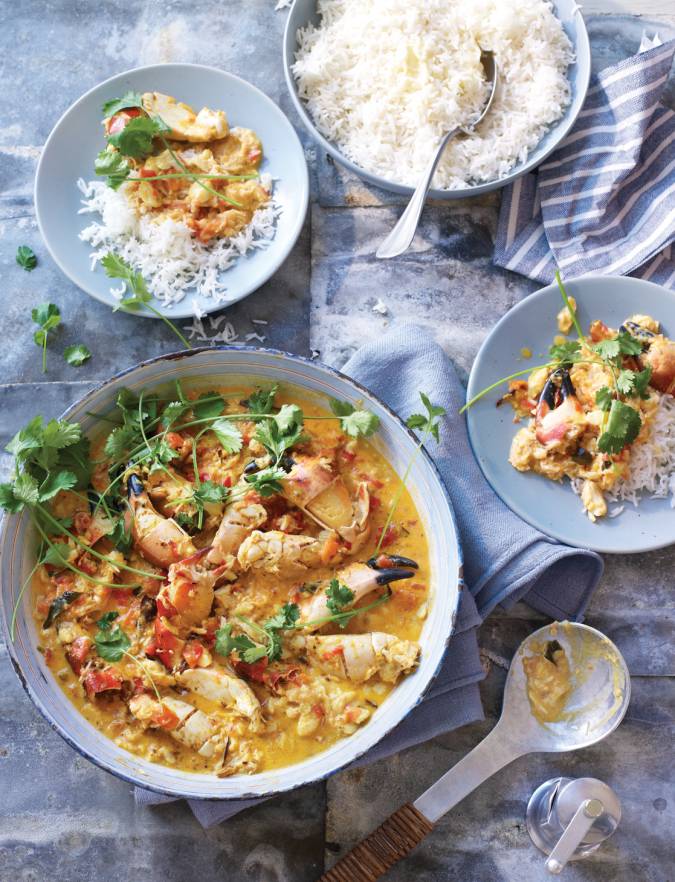 Nutritional information (per serving)
See more
Ingredients
760g frozen cooked crab claws, we used Taste the Difference

3 x 170g tins white crab meat chunks, drained

juice of 2 limes

a handful of coriander, to serve

basmati rice, to serve
For the curry base
2 green cardamom pods

3 tbsp sunflower oil

6 shallots, finely chopped

2 garlic cloves, finely chopped

2 tsp peeled, chopped root ginger

1 green bird eye chilli, finely chopped

1/3 small stick cinnamon, roughly crushed

2 cloves, roughly crushed

1 tsp turmeric powder

500g tomatoes, peeled and diced

10 dried curry leaves

500ml coconut cream
For the masala spice mix
10 green cardamom pods

1 tbsp coriander seeds

1 tsp fennel seeds

½ tsp cumin seeds

1/3 small stick cinnamon

2 cloves

2 dried whole bird eye chillies

1 tsp uncooked basmati rice

½ tsp ground fenugreek
Get ahead
Defrost the crab claws overnight. The curry base can be made the day before it's needed; keep covered and chilled.
Remove the frozen crab claws from their packets, place in a colander over a bowl, cover and leave to defrost in the fridge for a couple of hours. Once defrosted, use your hands to crack each claw open along the score marks, but leave the shell on, so they will be easy to shell and eat when cooked.
For the curry, bash the cardamom pods in a pestle and mortar, then discard the husks and grind the seeds to a powder. Set a large casserole pot over a medium low heat. Add the oil, followed by the shallots, garlic, ginger and chilli. Fry until they start to soften and colour, then mix in the cardamom, cinnamon, cloves and turmeric and cook for 2 minutes.
Mix in the tomatoes and curry leaves and continue to cook for about 10 minutes or until the tomato base thickens and starts to release the oil when you run a spoon through the mixture. Stir in the coconut cream, mixing thoroughly, then gently stir in the cracked crab claws and drained crab meat. Season generously with salt, cover the casserole and simmer over a low heat for 10 minutes, without stirring.

Tip Crab picks will help your guests extract every morsel of the meat from the claws, but the handle of a slim teaspoon works just as well.

Meanwhile, make the masala spice mix. Gently crush the cardamom pods to get the seeds out; discard the husks. Put the seeds in a small, dry frying pan with the other whole spices and the chillies and cook over a low heat for 2 minutes or until the mixture smells toasty. Mix in the rice and ground fenugreek and shake it for another minute until the rice is lightly toasted. Tip into a spice blender or mortar and grind to a fine powder.
Remove the curry from the heat and very gently mix in the masala spice mix and the lime juice. Serve immediately, scattered with coriander and with a generous pile of basmati rice. Eat with a spoon and use a pick to scoop the meat out of the claws. Have finger bowls of warm water and plenty of paper napkins to hand!
A luxurious dish to share with good friends; it's messy but fun to eat. Serve with basmati rice, pickles, poppadoms and napkins. Sri Lankan curries often have a masala (spice mix) added at the end of cooking. This curry is moderately hot, so if you're not a fan of heat, deseed the chilli before chopping.