Sponsored: Restaurant-style butter chicken from The Spice Tailor
---
Prep time: 10 mins
Total time: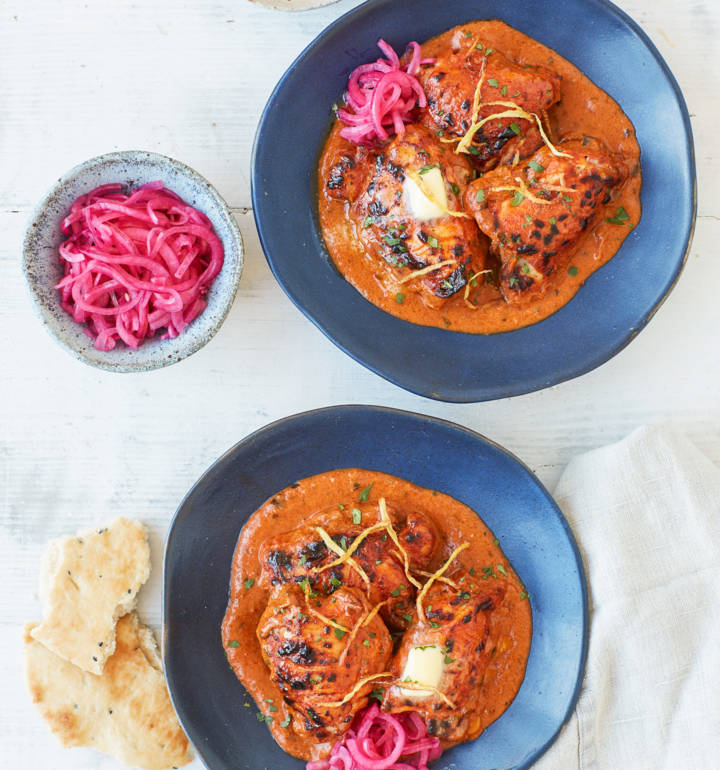 Sponsored: Restaurant-style butter chicken from The Spice Tailor
With a few simple hacks, you can elevate your butter chicken to delicious new heights and compete with restaurant-quality food at home. Best of all, with a little help from The Spice Taylor's Classic Butter Chicken Kit, you can make this a fun and easy cook! For a traditional serving style, cut the cooked thighs into bitesized piece and stir back into the sauce and simmer for a bit longer
---
Prep time: 10 mins
Total time:
---
See more recipes
Ingredients
1 pack of The Spice Tailor Classic Butter Chicken
4 chicken thigh fillets, trimmed of all excess fat, or 4 chicken thighs with the bone in, and skinned
2 tbsp Greek yogurt
1 garlic clove, crushed to a paste
1 tsp paprika
½ lemon, juiced
1 tbsp butter
Step by step
Begin by marinating the chicken thighs in the yogurt, garlic, paprika, lemon juice, 1 1/2 tbsp of sauce from the smaller pouch from the kit and a couple of pinches of salt. Leave for 15-30 minutes – or even overnight in the fridge (bring back to room temperature before cooking).
Preheat your grill to high, or 230˚C. Place the marinated chicken onto a pre-greased tray on the middle shelf. Grill for 15-20 minutes if boneless, or 20-25 minutes if the bone is in. Then turn up the grill to its highest and cook for 3-5 minutes for a bit of tandoori char. The meat is done when it reaches an internal temperature of at least 75˚C.
As it is finishing cooking, heat up 1 tbsp butter in a wide saucepan and add the spices and extra chilli from the spice pouch. Cook for 20 seconds. Add the remainder of the base sauce and the larger sauce pack along with a splash of water and bring to a simmer. Nestle in the chicken and simmer for a few minutes. You can serve with hot naans and a range of garnishes, including double cream or a knob of butter, coriander, soft julienned ginger fried in butter, pickled red onion slices (soaked in lemon juice and some salt) or just a wedge or two of lemon.
Don't miss

---