Sponsored: Katsu curry from The Vegetarian Butcher
---
Prep time: 20 mins
Total time: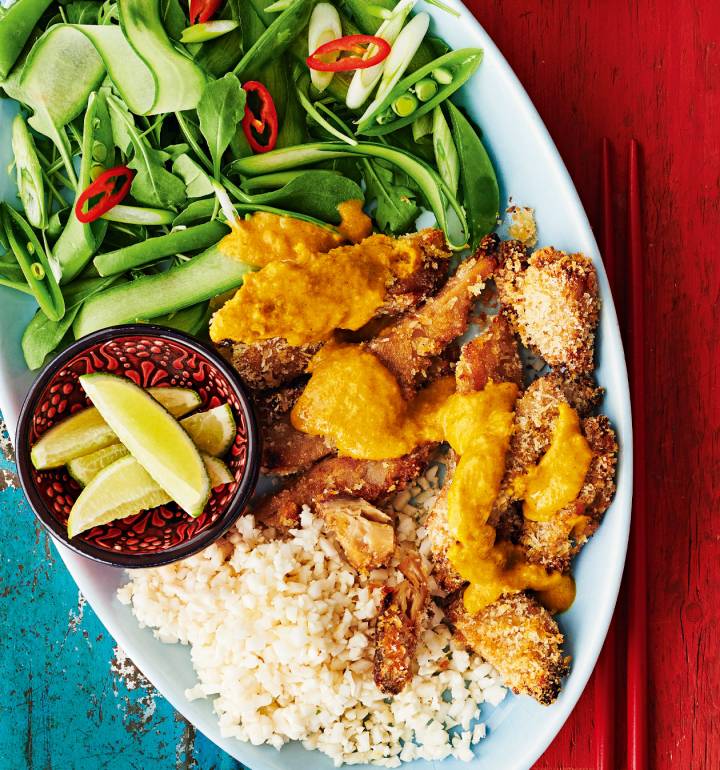 Sponsored: Katsu curry from The Vegetarian Butcher
---
Prep time: 20 mins
Total time:
---
See more recipes
Ingredients
2 x 160g packs What The Cluck chicken-style chunks
1 onion, finely chopped
1 carrot, finely chopped
1 tbsp oil plus cooking oil spray
2cm root ginger, grated
1 garlic clove, crushed
1 tbsp mild curry powder
2 tbsp soy sauce
400ml vegan vegetable stock
8 tbsp lighter coconut milk
2 tbsp golden syrup
90g panko breadcrumbs
Step by step
Soften the onion and carrot in a pan with 1 tbsp oil, then add the ginger, garlic, curry powder, soy, stock and 4 tbsp coconut milk. Simmer for 10 minutes, then blend to a smooth sauce.
Preheat the oven to 200°C, 180°C, gas 6. Mix the syrup and 4 tbsp coconut milk in a bowl; dip the What The Cluck chunks in this, followed by the crumbs to coat. Spread out on a baking tray, spritz well with cooking oil and bake for 15 minutes until crisp, turning half way. Serve with the katsu sauce.
Don't miss

---