Sponsored: Air fryer pork gyros
---
Prep time: 15 min
Total time: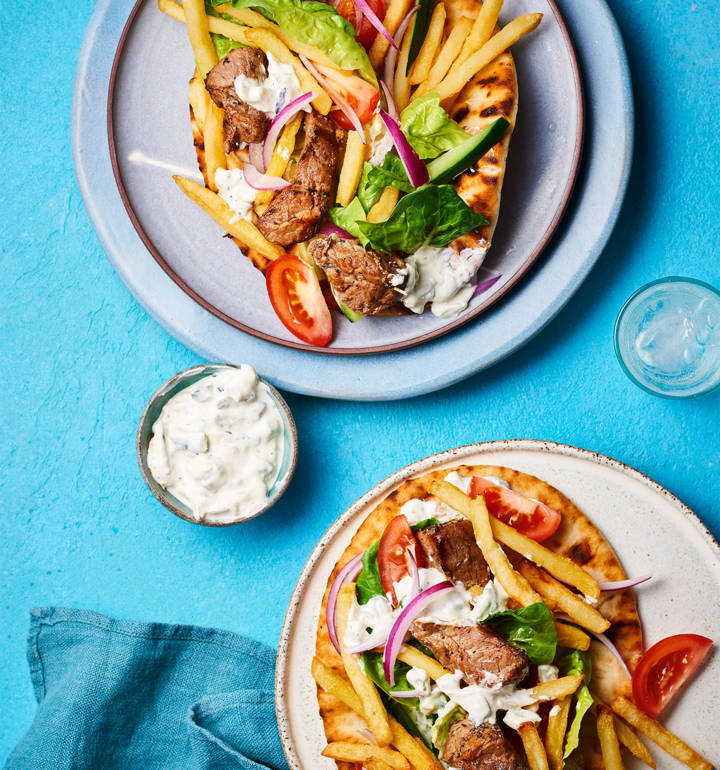 Recipe photograph by Liam Desbois
Sponsored: Air fryer pork gyros
---
Prep time: 15 min
Total time:
---
See more recipes
Ingredients
For the gyros pork
about 500g pork tenderloin fillet
3 tbsp olive oil
1½ tbsp red wine vinegar
1 tsp garlic granules
½ tsp dried oregano
To serve
350g McCain French Fries
4 Greek-style flatbreads (1x 320g pack)
1 x 200g pot tzatziki
1 Little Gem lettuce, leaves separated
2 tomatoes, sliced or chopped
½ cucumber, cut into long matchsticks
½ red onion, thinly sliced
Step by step
Marinate the pork at least an hour ahead of cooking; trim off any white sinew and cut the fillet into 2 chunky pieces. Whisk the olive oil, vinegar, garlic and oregano together with a generous amount of seasoning then turn the pork in the mixture to coat. Cover and marinate for 1 hour at room temperature, or in the fridge if preparing further ahead.
When ready to cook, preheat the air fryer to 180°C. Add the pork and cook for about 20 minutes (depending on the thickness of the fillet and the power of your air fryer). The juices should run clear when pierced. Remove to a plate, cover and leave to rest while you prep the serving ingredients.
Turn the air fryer up to 200°C, add the French Fries and cook for about 10 minutes, shaking halfway through, until crisp and golden. Warm the Greek-style flatbreads following pack instructions and slice the pork.
To assemble, spread some tzatziki on each flatbread and add a few lettuce leaves, some tomato, cucumber and red onion. Add the gyros pork meat and another spoonful of tzatziki, then tuck in the French Fries and roll up the wraps in a slight cone shape to serve.
Don't miss

---