Spiced chicken tagine with preserved lemon and olives
---
Prep time: 5 minutes
Total time: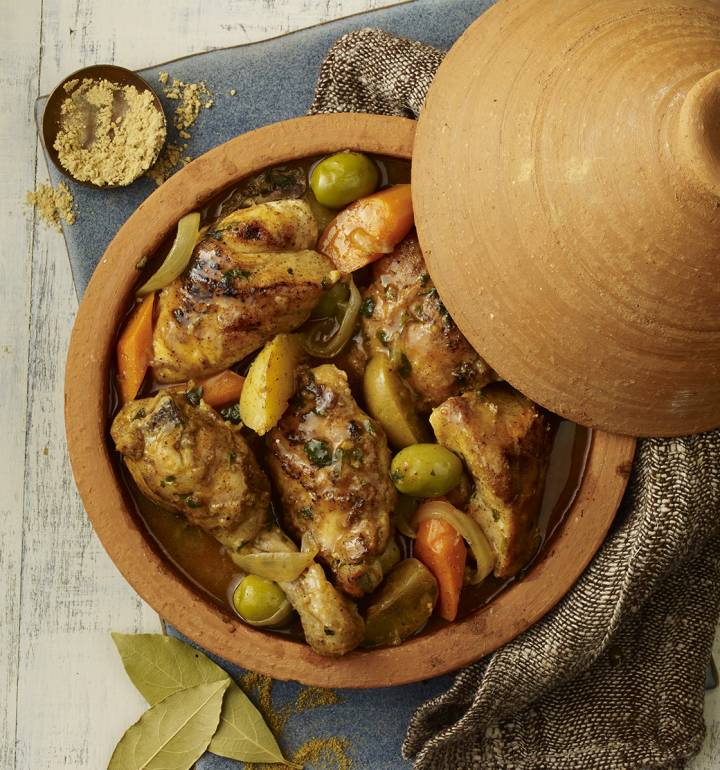 Spiced chicken tagine with preserved lemon and olives
---
Prep time: 5 minutes
Total time:
---
See more recipes
Ingredients
1½ tsp Schwartz Paprika
½ tsp Schwartz Ground Black Pepper
½ tsp Schwartz Cinnamon Ground
½ tsp Schwartz Cumin Ground
½ tsp Schwartz Ginger Ground
½ tsp Schwartz Sea Salt Mill
50g flour
675g skinless chicken thighs
1 tbs olive oil
1 medium onion, thinly sliced
2 carrots, sliced diagonally
½ tbs Schwartz Minced Garlic
1 large potato, cut into 2.5cm chunks
100g green olives
1 preserved lemon, cut into 8 wedges
1 tbsp Schwartz Parsley Flat Leaf
1 tbs Schwartz Coriander Leaf
1 Schwartz Bay Leaf
350ml chicken stock
Step by step
Mix the paprika, black bepper, cinnamon, cumin, ginger and salt in a bowl. Mix ½ tbsp of the spice mixture with the flour in shallow dish. Coat the chicken with the flour mixture and reserve the remaining spice mixture. Heat the oil in a pan on medium-high heat and add the chicken. Cook for 7 minutes, or until the chicken is browned on both sides. Remove the chicken from the pan and set aside.




Stir the onion slices, carrots, garlic and remaining spice mixture into the pan. Cook and stir for 5 minutes, or until the onions are lightly browned. Return the chicken to the pan, add the potatoes, olives, lemon wedges, ½ tbs each of the coriander and parsley, bay leaf and stock.

Bring to the boil, reduce the heat to low, cover and simmer for 1 hour, or until the chicken and potatoes are tender. Sprinkle with the remaining coriander leaf and parsley to garnish.
Don't miss

---