Sesame tuna burgers with chilli mango salsa
---
Prep time: 25 mins
Total time: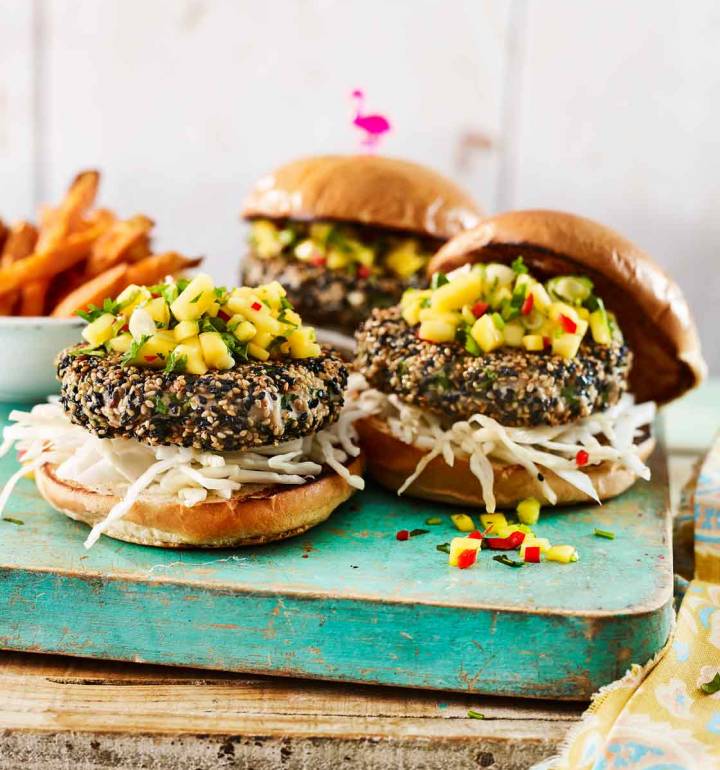 Recipe photograph by Dan Jones
Sesame tuna burgers with chilli mango salsa
Hawaii is famous for its spectacular seafood and tropical fruits – and these super simple burgers will give you a taste of both. If you can't find black sesame seeds, then use the same amount again of the white kind. Serve with sweet potato fries
---
Prep time: 25 mins
Total time:
---
See more recipes
---
Nutritional information (per serving)
---


Ingredients
2 x 240g packs fresh tuna steaks
2 garlic cloves, crushed
2 tbsp finely grated ginger
2 tbsp soy sauce, preferably Japanese
4 tbsp roughly chopped coriander
3 tbsp black sesame seeds
3 tbsp white sesame seeds
4 burger buns, halved
1 tbsp sunflower oil, to cook
100g white cabbage, finely shredded
For the salsa
1 medium ripe mango
1-2 red chillies, deseeded and finely diced
2 spring onions, finely chopped
4 tbsp finely chopped coriander
juice of 1 lime
Step by step
Prepare to the end of step 2 up to 24 hours ahead.
Chop the tuna fairly finely, or use a food processor – be careful not to turn it into a purée. Stir in the garlic, ginger, soy sauce and coriander; mix well. Form into 4 burgers and press down until about 1.5cm thick.
Mix the sesame seeds on a plate then press both sides and the edges of the burgers into them until well coated. Chill for 20 minutes.
Meanwhile, make the salsa. Peel and finely dice the mango, discarding the stone. Mix with the chillies, spring onions and coriander and then squeeze over the lime juice. Toss together and season to taste.
Toast the burger buns. Heat the oil in a nonstick frying pan on a medium-hot heat, and cook the burgers for 21⁄2–3 minutes on each side depending on how well done you like them. Divide the cabbage between the buns, add the burgers and top with salsa. Sweet potato fries are great on the side.
Don't miss

---