Salmon with tarragon crushed potatoes
---
Prep time: 15 mins
Total time: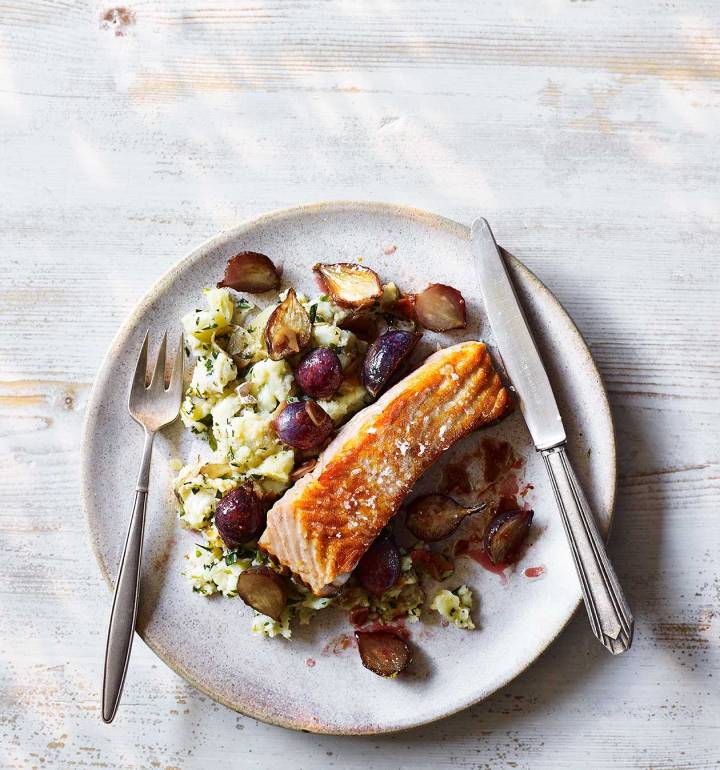 Recipe photograph by Toby Scott
Salmon with tarragon crushed potatoes
A speedy salmon supper for two
---
Prep time: 15 mins
Total time:
---
See more recipes
---
Nutritional information (per serving)
---
Ingredients
350g baby new potatoes
1 tbsp light olive oil
2 salmon fillets
200g radishes, trimmed and halved (we used speciality radishes)
1 large lemon
3 garlic cloves, sliced
2 tsp clear honey
20g butter, diced
3 tarragon sprigs, leaves picked and chopped
Step by step
Cook the potatoes in boiling water for 15-20 minutes or until tender.
Heat half the oil in a nonstick frying pan over a medium-high heat. Fry the salmon for 1 minute on each side until golden (but not cooked through) then lift out to a plate and season. Reduce the heat to medium, add the rest of the oil and cook the radishes for 5 minutes. Grate the zest from the lemon, cut 2 slices from the zested fruit then squeeze the juice from the remainder.
Add the garlic to the pan and cook for 30 seconds until fragrant but not coloured. Add the lemon slices, juice and zest, honey, 1 tablespoon of water and seasoning. Return the salmon to the pan, cover and cook for 4 minutes, or until the salmon is cooked through.
Drain the potatoes and mash or crush with the butter, tarragon and some seasoning. Serve with the salmon, radishes and sauce.
Don't miss

---