Salmon, bacon and kale pies with celeriac and horseradish rosti topping
---
Prep time: 45 mins
Total time: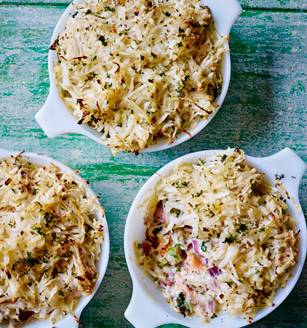 Recipe photograph by Toby Scott
Salmon, bacon and kale pies with celeriac and horseradish rosti topping
---
Prep time: 45 mins
Total time:
---
See more recipes
---
Nutritional information (per serving)
---


Ingredients
2 celeriac, each weighing about 600g
100g butter
2 red onions, thinly sliced
9 rashers smoked, dry-cured streaky bacon, snipped into smallish pieces
40g plain flour
600ml lighter crème fraîche
25g dill, fronds only, chopped
80g baby kale
6 skinless and boneless salmon fillets, about 800g in total, in bite-sized chunks
1 tbsp horseradish sauce
Step by step
Prepare up to the end of step 4 but allow the sauce to cool completely before mixing with the fish and other ingredients. Cover and chill for up to 24 hours. Bring to room temperature before baking. As salmon is a firmer fish you can freeze the pies – simply make up to the end of step 4 and put in the freezer for up to 1 month, just cover the dishes with a double layer of clingfilm. Defrost thoroughly before baking.
Peel the celeriac and cut each one into quarters, then put these into a saucepan. Add a generous pinch of salt and boiling water to just cover. Bring the water back to the boil and simmer the celeriac for 12-15 minutes or until just cooked; you want it to be al dente and still firm enough to grate. When ready, drain it and leave to cool.
Meanwhile, melt 40g of the butter in a sauté pan and gently fry the red onions and bacon for 8-10 minutes, stirring now and then, until the onions have softened. Turn the heat to low, sprinkle the flour over the top and then stir this in for a minute or so. It will look like a soggy mess at this stage, but that is how it should be. Now, add the crème fraîche, a few spoonfuls at a time, stirring over a low heat for a few minutes to bring the sauce together. When it is incorporated, tip the sauce into a mixing bowl and add half the dill, all the kale, the raw salmon and some salt and pepper. Mix everything together.
Divide the fish mixture between 6 individual ovenproof dishes, each with a capacity of about 500ml (or use a 2.5 litre capacity dish for one large pie). Preheat the oven to 200°C, fan 180°C, gas 6.

All this dish needs on the side is a bowl of seasonal greens or the ultimate accompaniment to any fish pie – buttered peas

Coarsely grate the celeriac, transferring it to a mixing bowl as it is ready. Melt the remaining 60g of butter and add two-thirds of it to the celeriac with the horseradish sauce, the remaining dill and some salt and pepper. Toss everything together, then use to top the pies. Drizzle or brush with the rest of the melted butter.
Transfer the dishes to a large baking tray and bake the pies for 25-30 minutes or until bubbling and golden brown on top. The large pie will need to be cooked for 35 minutes.
These flavours hail from Scandinavia. Serve with buttered peas. This will make 6 individual pies or fill 1 x 2.5 litre capacity dish.
Don't miss

---