Salad of roasted beetroot, goat's cheese and hazelnuts on wild rocket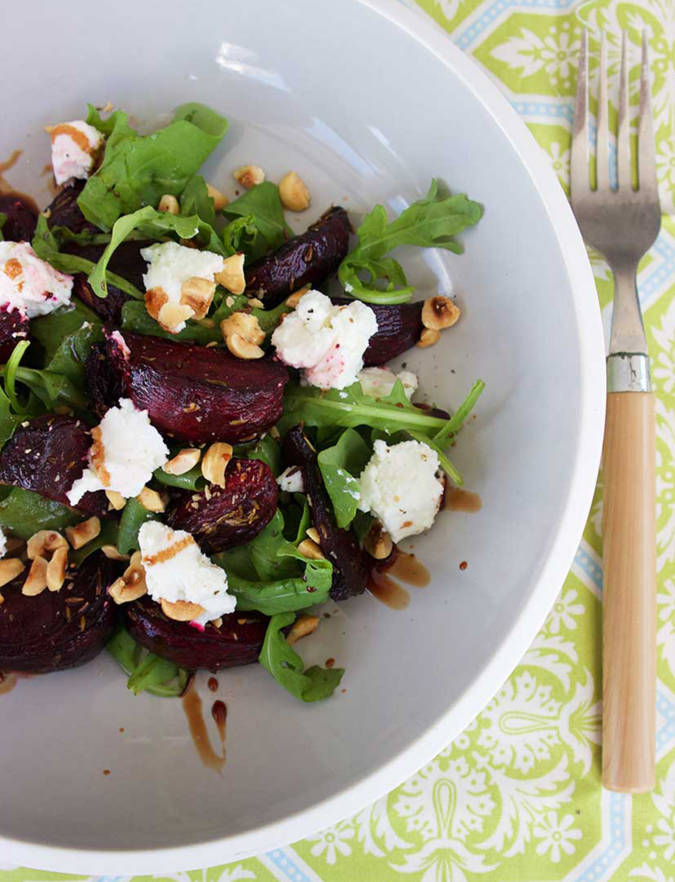 Ingredients
1 x 500g bunch of raw beetroot

1 tbsp olive oil

1 tsp cumin seeds

1 x 60g pack wild rocket

75g goats cheese, crumbled (such as Abergavenny)

25g toasted hazelnuts, roughly chopped

1 tbsp pomegranate molasses
Preheat the oven to 200°C, fan 180°C, gas 6. Trim and peel the beetroot and cut into wedges. You may want to wear disposable gloves to avoid getting purple hands! But if your fingers do take on the colour, try rubbing them with lemon juice and a little salt.
Toss the beetroot wedges with the oil and some seasoning. Spread out in a roasting tin and cook in the oven for 30-35 mins until tender, turning half way. Sprinkle in the cumin seeds, toss to coat, and cook for a further 5 mins. Remove from the oven and allow to cool slightly.
Divide the rocket between 2 bowls. Top with the goats cheese, hazelnuts and the slightly warm beetroot. Drizzle with the pomegranate molasses just before serving. Delicious with some crusty bread.