Pizza bianca with broccoli and garlic
---
Prep time: 20 mins
Total time: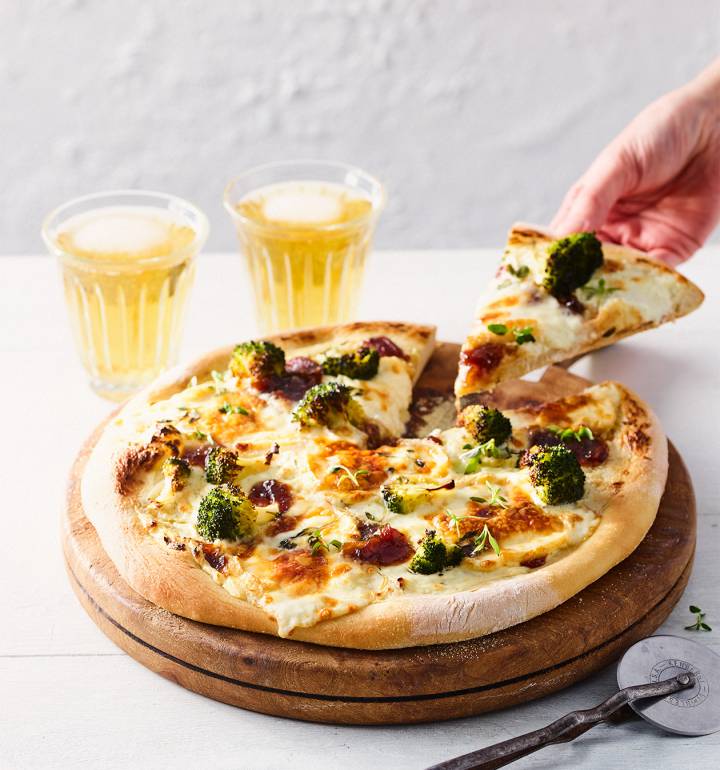 Recipe photograph by Rob Streeter
Pizza bianca with broccoli and garlic
Our food director Leah says: 'Pizza bianca – white pizza – is a classic street food in Rome, and perfect for people, like me, for whom the cheese is the best bit. I like bringing a little freshness to the pizza party with broccoli and rocket'
---
Prep time: 20 mins
Total time:
---
See more recipes
---
Nutritional information (per serving)
---


Ingredients
1 batch pizza dough (see step 1 in the recipe)
175g broccoli, chopped into small florets
1 x 300g tub full fat soft cheese
grated zest of 1 large lemon, plus a squeeze of juice
1 tbsp finely chopped thyme leaves, plus extra to sprinkle
2 garlic cloves, crushed
1 x 200g pack Taleggio, or vegetarian alternative, cut into 12 slices
125g Taste the Difference caramelised onion chutney
about 1 tbsp olive oil, to drizzle
a handful of rocket leaves, optional
Step by step
Make the pizza dough of your choice - choose from either our overnight pizza dough or our quick pizza dough. Preheat the oven to as hot as it will go, about 240°C, fan 220°C, gas 9, with 2 large, flat baking trays in the oven.
Blanch the broccoli in a pan of boiling water for 2 minutes, then drain and pat dry with kitchen paper.
Roll and shape the pizza dough into 2 large pizza bases about 30cm each in diameter on a large square of baking paper. In a bowl, mix the soft cheese, lemon zest, thyme, and garlic, plus a squeeze of lemon juice. Season; spread over the pizza bases.
Add the sliced Taleggio cheese and dollop teaspoons of onion chutney over the pizzas, then add the broccoli. Drizzle with olive oil and scatter over a little extra thyme. If using the quick pizza dough, let the pizzas rise for 10-15 minutes before baking.

You can use Camembert or Brie in place of the Taleggio.

Transfer the pizzas to the preheated baking trays; bake for 12-15 minutes until cheese is melted and the broccoli is going slightly crispy. Scatter with rocket, if using, just before serving.
Don't miss

---