Mediterranean fish stew with cheese toasts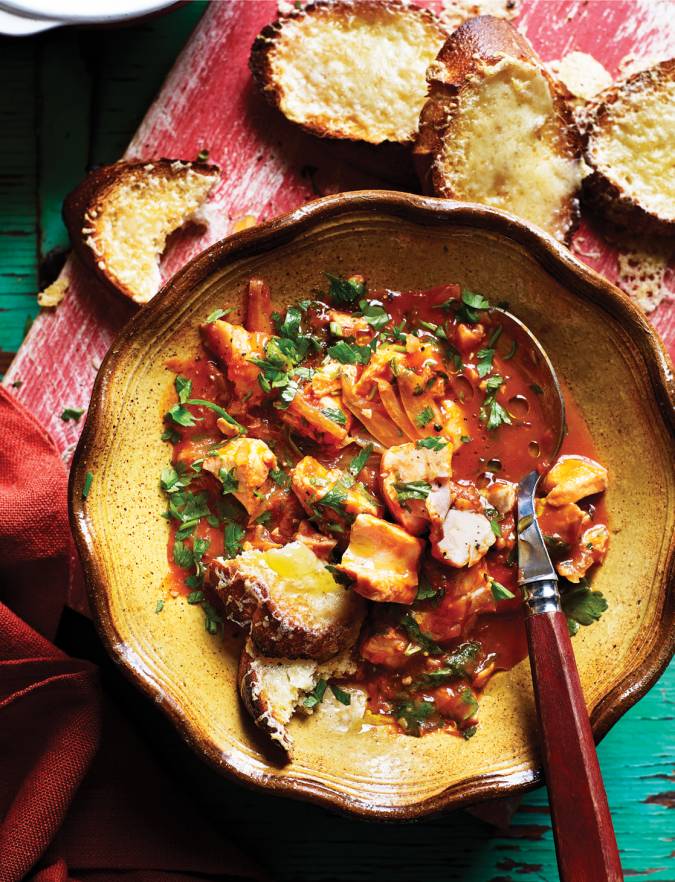 Nutritional information (per serving)
See more
Ingredients
2 tbsp olive oil

1 small onion, finely chopped

1 fennel bulb, finely sliced

a sprig of thyme

2 garlic cloves, crushed, plus 1 garlic clove, halved

100ml dry white wine

1 x 500g carton passata

250ml fish, chicken or vegetable stock

4 tbsp freshly squeezed orange juice, plus a piece of pared zest

600g mixed skinless, boneless fish fillets, cut into large chunks (eg cod and salmon)

4-5 tbsp roughly chopped flat-leaf parsley

8 slices of baguette

150g Gruyère cheese, grated
Warm the olive oil over a medium heat in a large pan. Add the onion, fennel, thyme and a good pinch of salt. Sauté for about 10 minutes until softened, stirring occasionally. Add the crushed garlic, stir for a minute, then pour in the wine; simmer until almost evaporated
Add the passata, stock, orange juice and zest; simmer for 10 minutes. Adjust the seasoning.
Add the fish and simmer gently until just opaque, about 4 minutes. Discard the thyme sprig and pared zest, and stir in the parsley.
While the fish is cooking, toast the baguette under the grill. Rub the toasts with the cut garlic clove; divide the cheese between them. Grill until melting.
Ladle the stew into warmed bowls and serve with the cheese toasts.