Gnocchi, ham and pea gratin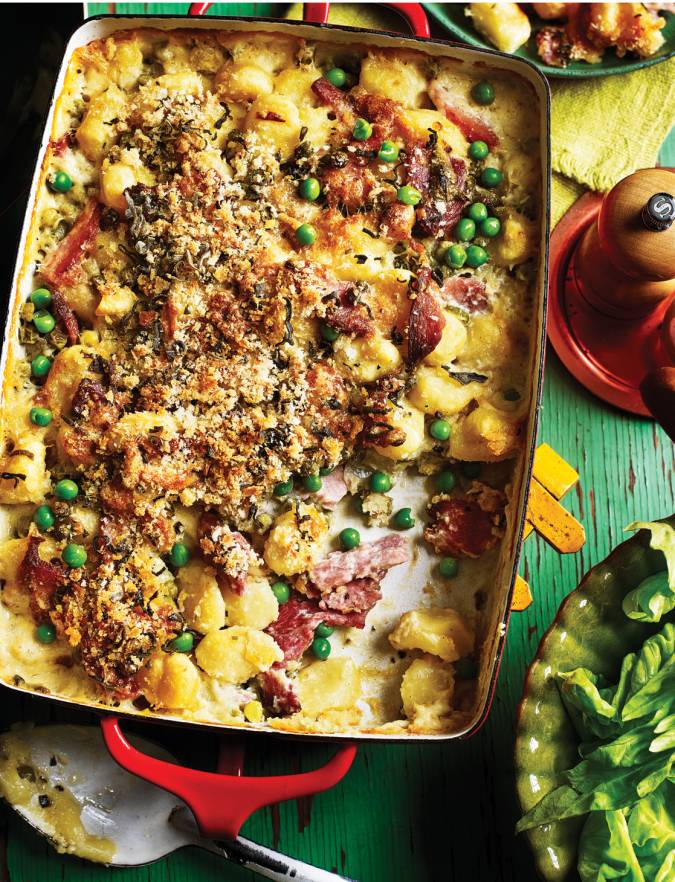 Nutritional information (per serving)
See more
Ingredients
30g butter, plus extra for greasing

1 shallot, finely chopped

500g fresh gnocchi

125g frozen petits pois

120g Taste the Difference thick-cut Wiltshire cured British ham, roughly shredded

150ml crème fraîche

100g Gruyère cheese, grated

8 sage leaves, finely shredded

a few gratings of nutmeg

4 tbsp fresh breadcrumbs
Preheat the oven to 220°C, fan 200°C, gas 7. Lightly butter a gratin dish, approximately 20 x 30cm. Or you can bake it in the pan you cook it in, if the pan has an ovenproof handle.
Melt the butter in a large sauté pan over a medium heat. Add the shallot and cook gently, stirring, for a couple of minutes until softened. Add the gnocchi and 200ml boiling water from the kettle; stir until warmed through. Add the petits pois; stir for a couple more minutes.
Fold in the ham, crème fraîche, 30g of the Gruyère cheese, two-thirds of the sage and a few gratings of nutmeg. Season well with salt and pepper.
Tip into the prepared gratin dish (or simply leave in the pan, see above). In a small bowl, mix the breadcrumbs with the remaining cheese and sage and sprinkle the mixture over the top. Bake for 15-20 minutes, until golden and bubbling.
Serve with a tomato salad and some dressed mixed leaves.