Chicken kebab platter
---
Prep time: 25 mins
Total time: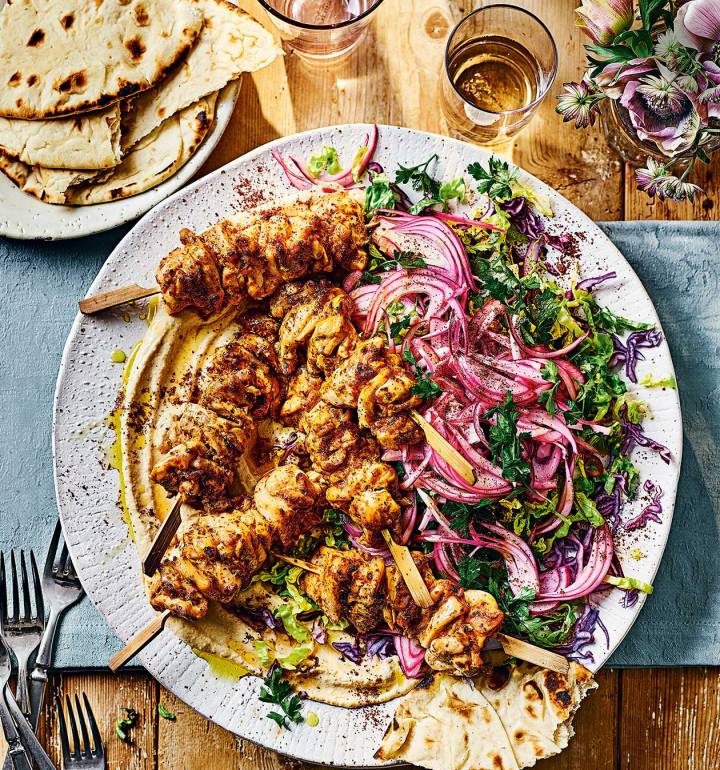 Recipe photograph by Martin Poole
Chicken kebab platter
Treat this like a massive BBQ sharing board for the summer - if you don't fancy chicken then lamb also works brilliantly
---
Prep time: 25 mins
Total time:
---
See more recipes
---
Nutritional information (per serving)
---


Ingredients
1 x 640g pack skinless, chicken thigh fillets
60g mayonnaise
3 lemons
2 tsp tomato purée
2 tsp dried oregano
1 tsp Turkish pepper flakes* (Aleppo) or 1⁄2 tsp regular chilli flakes
3 garlic cloves
1 red onion, finely sliced
a handful of roughly chopped parsley leaves
1 x 400g tin chickpeas
120g tahini
1⁄4 red cabbage, shredded
1 Little Gem lettuce, shredded
extra-virgin olive oil to drizzle
about 1⁄2 tsp sumac
warmed flatbreads, to serve
Step by step
Marinate the chicken the day before. The houmous keeps for up to 3 days, chilled.
Trim the chicken and cut into roughly 2.5cm cubes. Chuck it into a non-metallic bowl and add the mayonnaise, the juice of half a lemon, the tomato purée, oregano, Turkish pepper flakes (or chilli) and a good pinch of salt. Crush in 2 cloves of garlic and mix everything together really well. Cover and leave to marinate for 1 hour, or overnight in the fridge. If using wooden skewers, soak them in water for at least 30 minutes before using.
Preheat the grill to high and thread the chicken pieces onto the skewers. Grill for 4-5 minutes on each side or until golden and cooked through.
Meanwhile, chuck the onion into a bowl and add the juice of 1 lemon and a good pinch of salt. Mix well and leave to macerate, tossing occasionally, for 10 minutes. Add the parsley and mix well.
To make a houmous, drain the chickpeas and keep the chickpea liquid from the tin. Put the chickpeas, 100ml of the chickpea liquid, the juice of 1 lemon, the last clove of garlic, the tahini and a good pinch of salt into a food processor and blend until smooth. If it looks a little dry or thick, add a splash more of the chickpea liquid.
Swirl the houmous onto a huge serving platter and drizzle over a little olive oil. Heap up the kebabs on the platter, squeeze over the juice of the remaining half a lemon and season with a little salt. Pile up the shredded cabbage and Little Gem, make a big old mound of the onions and scatter sumac all over the top. Serve immediately with plenty of flatbreads.
Don't miss

---