Bloody Mary burgers
---
Prep time: 20 mins
Total time: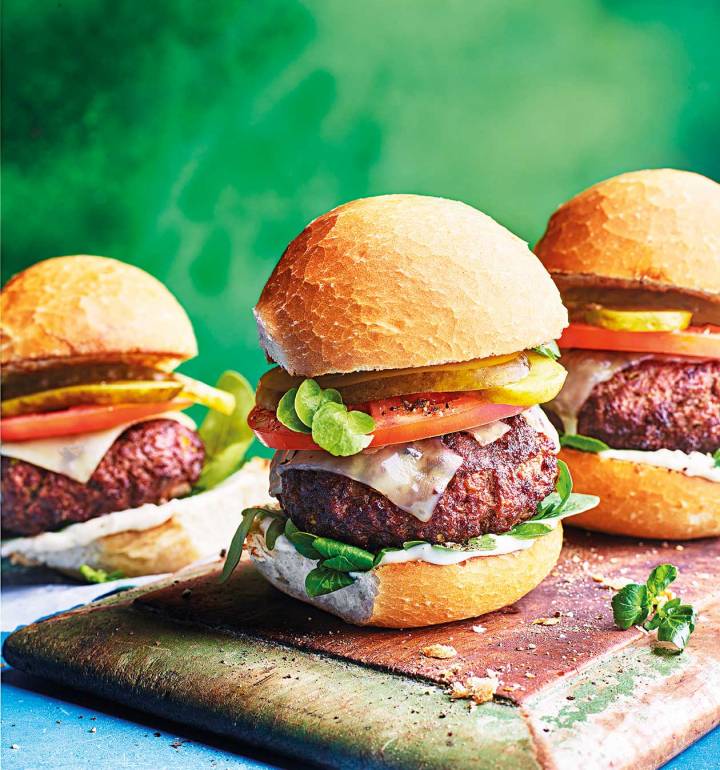 Recipe photograph by Kris Kirkham
Bloody Mary burgers
All the flavours of the classic cocktail, wrapped around a beefy burger! The vodka not only tenderises the meat, but it also helps to keep the patties moist during cooking
---
Prep time: 20 mins
Total time:
---
See more recipes
---
Nutritional information (per serving)
---
Ingredients
750g 12% fat beef mince
70ml vodka
2 tbsp creamed horseradish
2 tbsp stale or dried breadcrumbs
½ tsp cayenne pepper
2 tbsp Worcestershire sauce
2 tbsp tomato purée
1 tsp garlic granules
1 shallot, diced
1 tbsp finely chopped parsley
1 tbsp finely chopped celery leaf tops
1 tbsp olive oil
To serve
3 tbsp mayonnaise
1 tbsp creamed horseradish
4-6 seeded burger buns or crusty rolls
a couple of handfuls of watercress, spinach and rocket salad
4-6 Emmental cheese slices (optional)
1 beefsteak tomato, sliced
8-12 gherkin slices
Step by step
Prepare the burgers up to 24 hours ahead and then chill (or freeze). Bring back to room temperature for an hour before cooking.
Preheat your barbecue (or grill or a griddle pan) to a medium-high heat. In a bowl, use your hands to massage the beef mince and vodka together until well combined. Add the rest of the burger ingredients (except for the oil) and mix together well, seasoning with plenty of black pepper and salt. Shape into four large, thick patties (or six thinner ones).
Brush each burger patty with olive oil and cook on the barbecue, or grill for 6-7 minutes on each side or until cooked through.
Meanwhile, in a small bowl combine the mayonnaise and horseradish sauce. Split each roll and lightly toast on the cut side. Spread a generous dollop of the horseradish mayo on the base of each roll and top with a few salad leaves, a burger, cheese, tomato and a couple of gherkin slices followed by the bun lid. Serve immediately and eat with your hands.
Don't miss

---