Beef Wellington
Serves
4-6
|
prep
40 mins
|
total time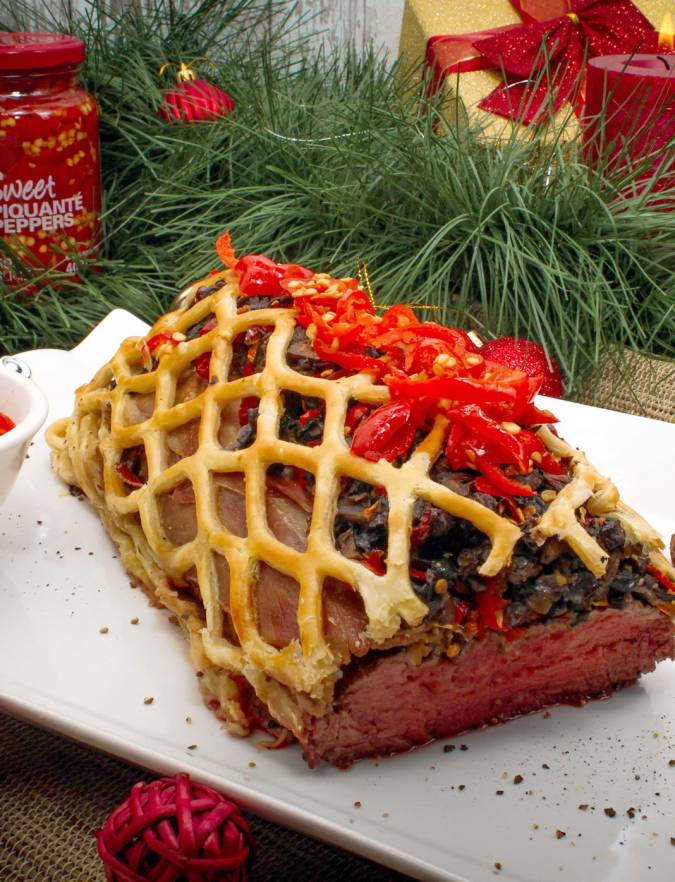 Beef Wellington
Serves
4-6
|
prep
40 mins |
total time
Ingredients
400g fillet of beef, in a piece

olive oil to fry

500g mixed mushrooms, cleaned and chopped

1 thyme sprig, leaves only

500g puff pastry

8 slices Parma ham

½ x 400g jar PEPPADEW® Hot Sweet Piquanté Peppers, drained and sliced

2 egg yolks, beaten with 1 tbsp water and a pinch of salt
The day before cooking, wrap the beef fillet tightly in a triple layer of cling film to set its shape, then chill overnight.
Unwrap the beef fillet, season and sear in a little olive oil in a hot pan for about 60 seconds until browned all over and rare in the middle. Remove from the pan and leave to cool.
Heat a little more oil and add the mushrooms, thyme leaves and some seasoning. When the mushrooms begin to release their juices, continue to cook over a high heat for about 10 minutes or until all the excess moisture has evaporated and you are left with a mushroom paste. Remove to a plate and leave to cool. Preheat the oven to 200°C, fan 180°C, gas 8.
Cut the pastry in half, place on a lightly floured surface and roll each piece into a rectangle that's slightly larger than the beef fillet.
Wrap the Parma ham slices all around the beef fillet to enclose it, then lay it down the centre of one sheet of pastry, placed on a baking tray. Spoon half the PEPPADEW® Sweet Piquanté Peppers along the top of the beef, followed by the mushroom paste.
Brush the edges of the pastry with the egg glaze. If you want a lattice top, use a lattice roller cutter along the second sheet of pastry, or simply drape this sheet over the beef. Seal the edges then trim the pastry and brush all over with the egg wash.
Bake for 15-20 minutes or until the pastry is golden brown and cooked. If you have a temperature probe, use to check the internal tempreature of the beef; for rare, the centre needs to reach 50°C, 60°C for medium-rare, 65°C for medium, 70°C for medium-well done, or 75°C for well done. The cooking time will vary according to the shape and thickness of your beef fillet. Rest for 10 minutes before carving. Serve with the rest of the PEPPADEW® Sweet Piquanté Peppers on top of the wellington.