Bashed chicken with walnut and watercress pesto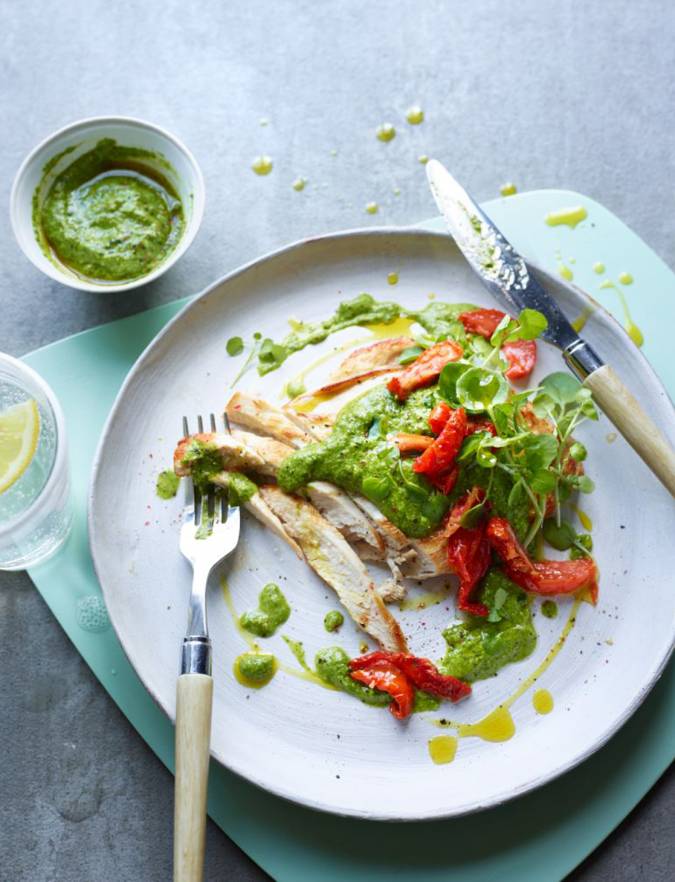 Nutritional information (per serving)
See more
Ingredients
240g skinless chicken breast fillet

small knob of butter

25g walnuts

½ garlic clove, peeled

large handful of watercress, about 50g, plus extra to serve

large handful of basil leaves, about ½ x 28g pack

20g grated Parmesan

juice of 1 lemon

2 tbsp olive oil

a handful sunsoaked tomatoes, to serve (optional)
Get ahead
The pesto keeps for 3-4 days in the fridge if you have some left over.
Lay a large piece of clingfilm over a chopping board, place the chicken breast on top, then lay a second piece of clingfilm over the chicken. Using a meat mallet, saucepan, rolling pin or any other blunt instrument, bash the chicken until it is about 1.5cm thick all over.
Melt the butter in a large frying pan over a medium to high heat and, when bubbling, put the chicken in and fry for about 4 minutes on each side, or until you are sure it is cooked through – check by cutting into the thickest part to make sure the meat is white all the way through, with no raw pink bits left.
Meanwhile, place the remaining ingredients, apart from the extra watercress and the sundried tomatoes, in a food processor along with a splash of warm water and seasoning. Blitz until you have a smooth pesto.
When the chicken is ready, remove it from the pan, shaking off the excess butter, slice it and lay on a plate. Season with a little salt and pepper, pile the extra watercress on top, scatter over a few sunsoaked tomatoes, if using, and then drizzle over the walnut pesto.