Aubergine, pepper and halloumi kebabs with lemony houmous
---
Prep time: 10 mins
Total time: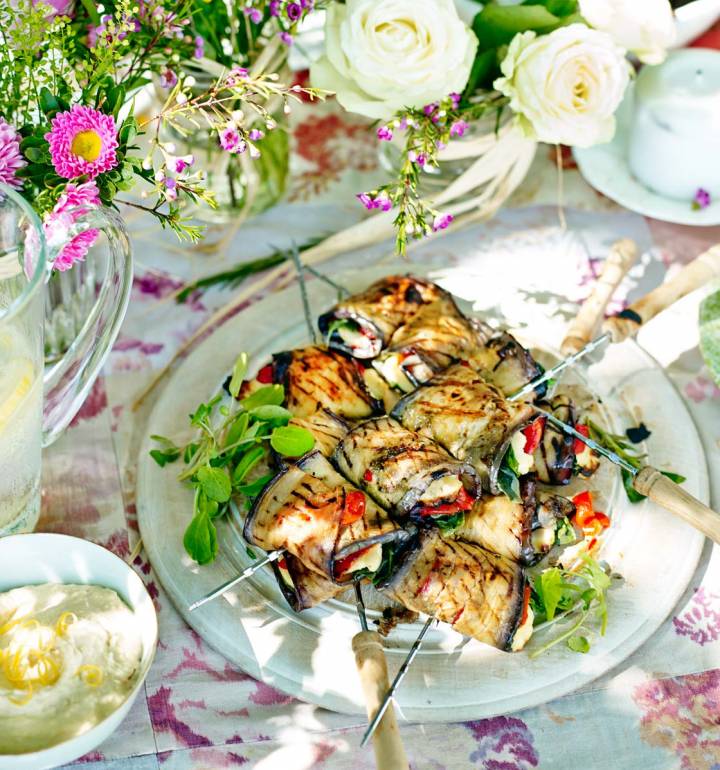 Recipe photograph by Martin Poole.
Aubergine, pepper and halloumi kebabs with lemony houmous
---
Prep time: 10 mins
Total time:
---
See more recipes
---
Nutritional information (per serving)
---


Ingredients
3 medium aubergines
6 tbsp olive oil, for frying
1 x 200g tub houmous
zest of 1 small lemon
1 tbsp baby capers, drained (optional)
3 roasted red peppers, from a jar, sliced into 18 strips
1 x 250g pack halloumi, cut into 18 thin slices
18 basil leaves
You will also need
Step by step
Griddle the aubergines a day ahead. Store covered with olive oil in an airtight box; keep cool.
Preheat the barbecue.
Trim and discard the tops from the aubergines, then slice lengthways. You want the slices to be ½-1cm thick; you should get 6 slices from each. (The skinnier slices from the edges aren't used here, but keep them to chop and fry to add to a salad.)
Fry or griddle the 18 slices, in batches, in oil, for a few minutes on each side, or until tender, then leave to cool. Mix the houmous with the lemon zest and capers, if using.
Lay an aubergine slice, lengthways, on a board. Place a strip of pepper, a piece of halloumi and a basil leaf onto the top end of the slice, then, starting at the top, roll the slice towards you. Repeat twice more. Thread the 3 rolls onto a skewer. Repeat with the rest of the ingredients and the other 5 skewers. Barbecue for 6-8 minutes, turning halfway, and eat with the lemony houmous.
Don't miss

---