Nutty apple pittas with tahini ice cream
Serves
8 (with leftover ice cream)
|
prep
30 mins
|
total time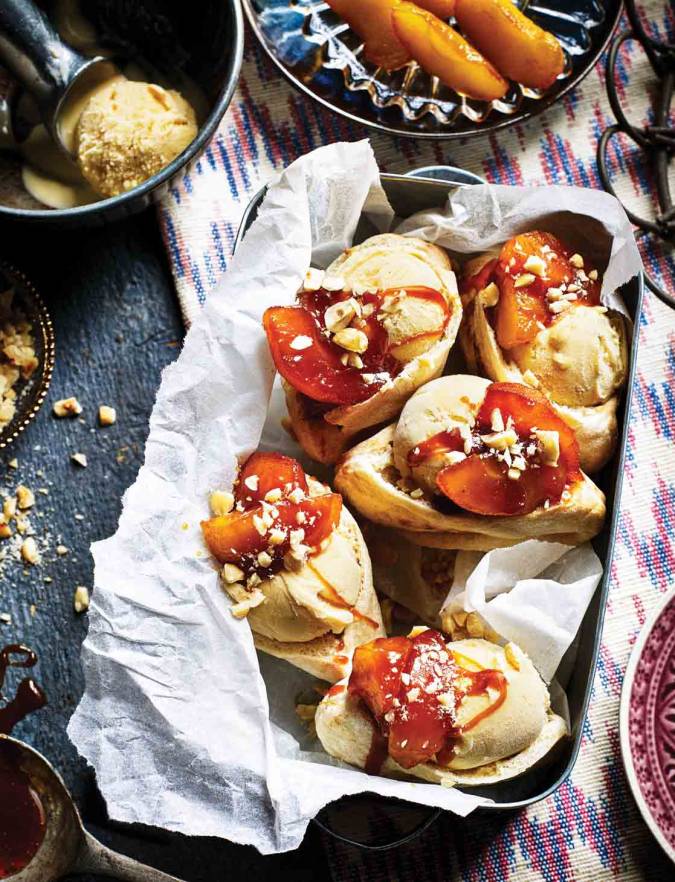 Nutritional information (per serving)
See more
Ingredients
For the tahini ice cream
1 vanilla pod, cut in half and seeds scraped out

500ml whole milk

6 large egg yolks

75g caster sugar

75g tahini paste, stirred
For the caramelised apples
75g caster sugar

20g unsalted butter

2 small apples, peeled, cored and quartered
To serve
30g roasted chopped hazelnuts

a pinch of sea salt flakes

1 tbsp granulated or caster sugar

½ tsp ground cinnamon

8 mini pittas or flatbreads
Get ahead
Make the ice cream at least 1 day before. Leftovers keep for 1 month in the freezer. Remove from the freezer 30 minutes before serving.
Start by making the ice cream. Add the vanilla seeds and pod to the milk and very gently bring to the boil in a pan. Immediately turn off the heat and allow the milk mixture to infuse for 30 minutes. Strain the milk into a clean pan, discarding the vanilla pod.
Whisk the egg yolks and caster sugar gently in a bowl until combined, but not frothy. Pour about a quarter of the infused milk slowly onto the egg yolks and mix well. Pour back into the pan containing the rest of the milk, and put on a gentle heat. Cook on a medium heat for 10-12 minutes, stirring continuously with a wooden spoon, until it thickens and coats the back of a spoon. Remove from the heat, whisk in the tahini and allow to cool. Pour into a bowl, press clingfilm onto the surface to prevent a skin forming and cool for 1 hour. If using an ice-cream machine, chill for 2 hours then churn for 30-40 minutes until lightly frozen. If not serving immediately, transfer to a lidded container and freeze. Or, put into a lidded container, freeze for 2 hours; then mix with a fork to churn by hand; freeze again for another 2 hours. Mix again, then freeze until frozen. It should be creamy and not too frozen.
When almost ready to serve, caramelise the apples. Put the sugar in a large heavy-based frying pan and cook over a medium heat until a golden brown caramel has formed. Don't stir it, just tilt the pan if you need to, to get an even colour. Add the butter and a pinch of salt and mix well with a wooden spoon, then add the apple wedges and cook on a low heat for about 10 minutes, gently moving the apples continuously to coat in the caramel. The apples should become soft but retain a slight bite. Allow to cool for 10 minutes.

Tip If you don't have time to make your own ice cream, try stirring slightly softened tahini paste into shop-bought vanilla ice cream to taste. Then refreeze.

Mix the hazelnuts, salt, sugar and cinnamon together. Warm and split the pittas. Layer in the tahini ice cream and caramelised apples (still warm), then finish with a sprinkle of hazelnut cinnamon sugar. This recipe contains lightly cooked egg.