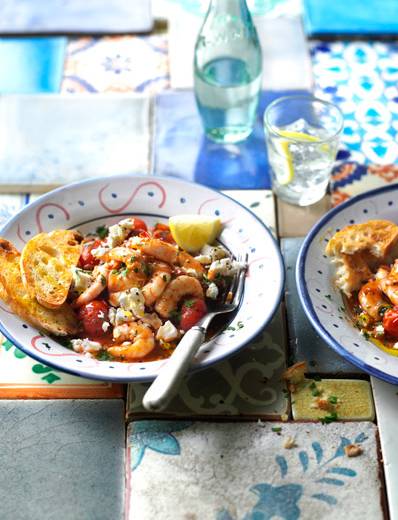 Nutritional information (per serving)
See more
Ingredients
1 tbsp extra-virgin olive oil, plus extra to drizzle

1 red onion, finely sliced

3 garlic cloves, finely chopped

a good pinch of crushed chillies

1 x 400g tin Taste the Difference Pomodorini cherry tomatoes

a small glass white wine (or use 150ml water or stock)

a pinch of sugar

1 x 180g pack large raw prawns

½ x 28g pack flat-leaf parsley, leaves chopped

75g feta cheese

4 slices rustic or ciabatta bread, toasted

1 lemon, cut into wedges
Heat the olive oil in a deep frying pan and gently cook the onion, covered, for about 5 minutes until soft.
Stir in the garlic and chilli; cook for a minute. Increase the heat, add the tomatoes and wine (or water or stock), cover, bring to the boil and simmer gently for 10 minutes. Remove the lid and bubble for a further few minutes. Season to taste with salt, black pepper and a pinch of sugar.
Add the prawns and half the parsley, cover and cook for 2 minutes until the prawns are cooked through.

Tip Prawn saganaki is a rustic Greek dish made with tomatoes, prawns and feta cheese.

Crumble over the feta and sprinkle with the remaining parsley; leave to stand for a minute. Serve with the toasted bread, drizzled with olive oil, and the lemon wedges.