On-the-move low-carb 'muffins'
Makes
12 (eat 2 or 3 per serving), recipe can be halved
|
prep
15 mins
|
total time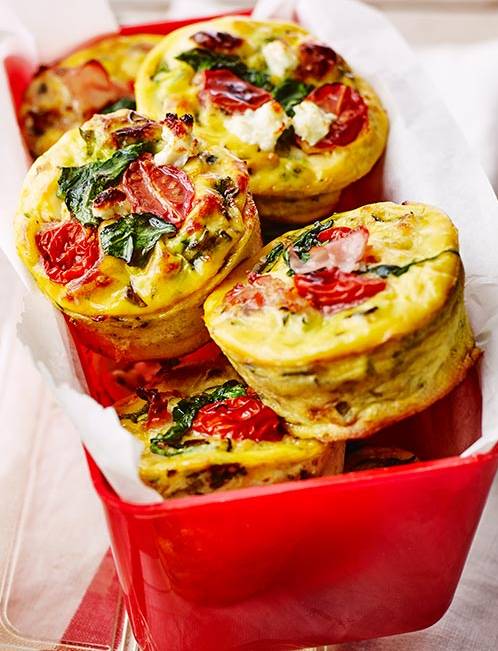 Nutritional information (per serving)
See more
Ingredients
2 medium courgettes (about 350g)

8 medium eggs, plus 4 egg whites (freeze the yolks to add to scrambled eggs)

50g baby leaf spinach, shredded

2 tbsp chopped fresh herbs (eg chives, basil, thyme)

12 baby plum tomatoes, halved

125g vegetarian feta, crumbled
Get ahead
The cooked and cooled muffins will keep for up to 5 days in the fridge in an airtight container.
You will need a silicone muffin tray or silicone cupcake cases. Preheat the oven to 180°C, fan 160°C, gas 4. Grate the courgettes, sprinkle with a little salt to draw out the moisture; put in a colander to drain while preparing the other ingredients.
Beat the eggs and egg whites in a bowl with a little seasoning. Stir in the spinach and herbs. Add the feta to the mixture.
Squeeze the excess moisture out of the courgette then stir the courgette into the egg mixture. Divide between a 12-hole silicone muffin tin (or use silicone cupcake cases as liners in a metal muffin tin). 
Pop 2 halves of tomato on top of each muffin, then bake in the oven for 25-30 minutes until set. Cool and store in the fridge. You can gently reheat the muffins in the microwave, if you like.