Raspberry and vanilla meekshake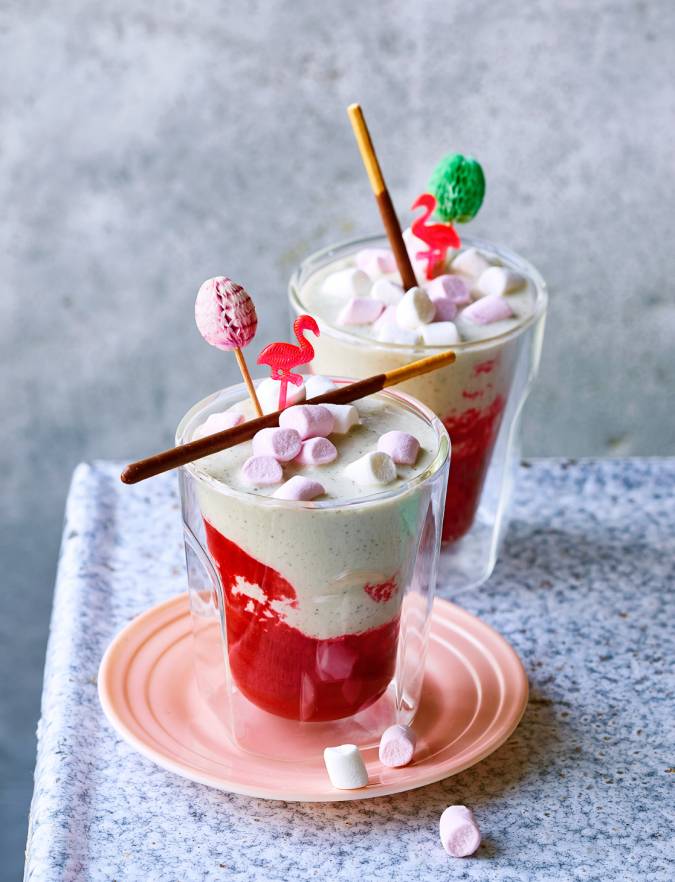 Nutritional information (per serving)
See more
Ingredients
200g raspberries, plus a few extra to serve

200g vanilla ice cream, softened

3 tbsp milk

1 large ripe banana, sliced

6 ice cubes
To serve
a handful of miniature marshmallows

2 Mikado biscuit sticks
Tip the raspberries into a sieve set over a bowl and purée by pressing them through using a spatula. Divide the purée between 2 x 200-250ml tumblers, and swirl the mixture around the glass slightly to coat the sides.
Put the ice cream, milk, banana and ice cubes in a liquidiser and blend until smooth then pour into the glasses. Serve immediately topped with a scattering of marshmallows and a biscuit stick, plus decorative swizzle sticks, if you want.
Have you heard of freakshakes? They are enormously rich, over-the-top ice cream and fruit concoctions, topped with whipped cream, doughnuts, sweets or chopped cookies. They originated in Australia but are now taking over the world via social media. Our version is a little more modest so is called a meekshake!