Triple-layer raspberry lemonade drizzle cake
Serves
12
|
prep
40 mins
|
total time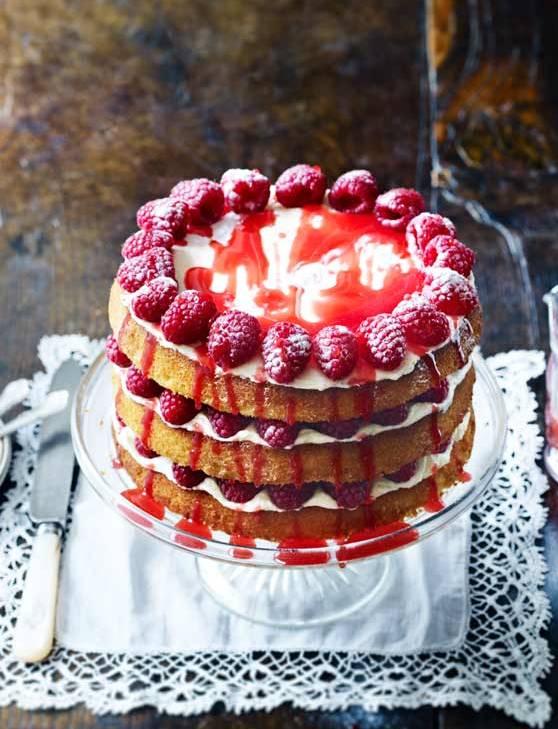 Nutritional information (per serving)
See more
Ingredients
225g soft unsalted butter, plus extra for greasing

1 lemon

450g raspberries (100g for the sponges, the rest for the layers and to decorate)

225g self-raising flour

225g caster sugar

4 large eggs

2 tsp baking powder

1 x 23g sachet sherbet dip dab (optional; discard or eat the lolly)
For the drizzle
75g raspberries

50g granulated sugar

juice of 1½ lemons
For the buttercream
400g icing sugar

100g unsalted butter

finely grated zest of 2 lemons

6 tbsp lemon curd
For the raspberry purée
150g raspberries

50g icing sugar

juice of ½ lemon
Get ahead
Bake and drizzle the cakes up to a day ahead; store in an airtight container.
Preheat the oven to 180°C, fan 160°C, gas 4. Lightly butter and line 3 x 18-19cm diameter sandwich tins with baking paper.
Using a fine grater, grate the whole lemon into a bowl – including zest, pith, flesh and juice, but removing the pips, the stalk and any tougher bits as you go. Using the lemon in this way gives the cake the zingy taste of homemade lemonade.
Cut 100g of the raspberries in half and roll them in a little of the flour. Beat together the butter and the sugar in a stand mixer for 2-3 minutes (or use a bowl and an electric hand whisk) until well combined.
Lightly beat the eggs in a jug with a fork, add them to the cake mixture, a little at a time, beating well after each addition. Sift in the rest of the flour and the baking powder; gently fold in, then fold in the grated lemon.
Transfer the mixture to the prepared tins, dividing it equally. Smooth the tops level with a knife and scatter with the floured raspberries, dividing them equally between the tins. Bake for 25-30 minutes until springy and golden.
For the drizzle, use a fork to squish the 75g raspberries with the granulated sugar, then push through a sieve to get rid of the pips. Stir the lemon juice into the raspberry mixture. When the cakes are done, leave them in their tins and spoon the drizzle over the top. Set aside to go cold in their tins.
For the buttercream, beat all the ingredients together in a stand mixer for 2 minutes until creamy and smooth.
For the purée, blitz the raspberries with the icing sugar in a food processor, then press through a sieve. Add the lemon juice to give it a pouring consistency.
Once the sponges are completely cold, take them out of their tins. Use a blob of buttercream to stick the base of one sponge to a pretty cake stand or plate. Pipe or spread a generous layer of buttercream on top. Sprinkle 2 teaspoons of sherbet dip dab powder, if using, on the buttercream and scatter with a handful of raspberries. Put the second sponge on top and repeat. Finish with the third sponge followed by the rest of the buttercream and raspberries, and serve with the raspberry purée poured over the cake.