Strawberry tiramisu
---
Prep time: 20 mins plus chilling
Total time: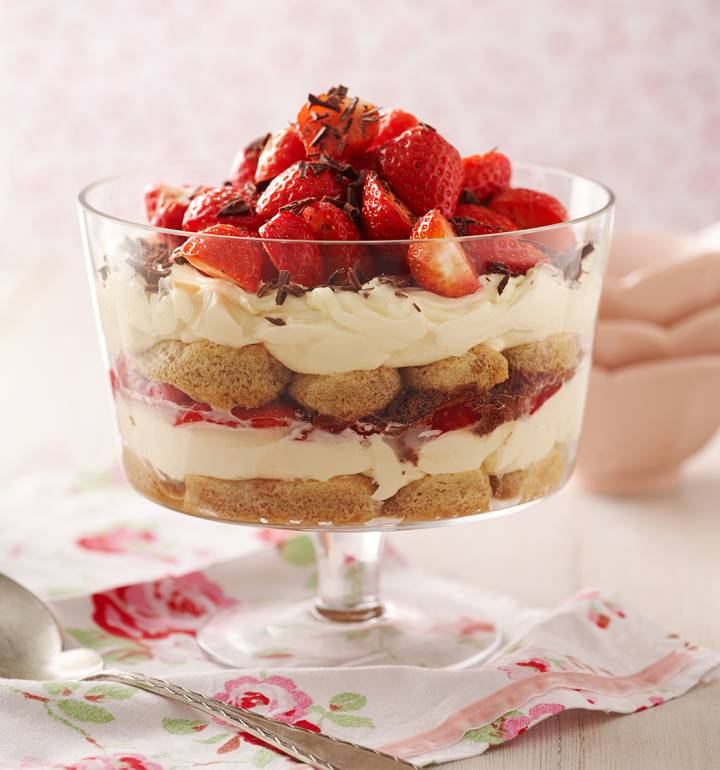 Lauren Mclean
Strawberry tiramisu
---
Prep time: 20 mins plus chilling
Total time:
---
See more recipes
Ingredients
250g tub mascarpone cheese
75g caster sugar
5 tbsp Marsala wine
300ml double cream by Sainsbury's
8 tbsp cold black coffee
1 tbsp coffee liqueur
10-12 sponge fingers
400g strawberries, hulled
50g dark chocolate, finely grated, plus extra chocolate shavings to decorate
Step by step
Place the mascarpone in a large bowl and beat in the caster sugar and Marsala wine with a wooden spoon or spatula until very smooth. Gradually beat in the double cream.

Mix the coffee and liqueur in a shallow dish. Dip half the sponge fingers in the coffee mixture and arrange in the base of a straight-sided glass bowl (about 1.2 litres capacity). You may need to cut them to fit.

Spread half of the mascarpone mixture over the sponge fingers. Slice 150g of the strawberries and arrange on top. Sprinkle over the grated chocolate.

Dip the rest of the sponge fingers in the coffee mixture and arrange over the grated chocolate. Gently spread over the remaining mascarpone mixture. Halve the rest of the strawberries and pile on top of the tiramisu. Scatter over the chocolate shavings. Chill for 1 hour in the fridge before serving.




Don't miss

---