Sticky gingerbread spiced Christmas pudding
Makes
1 x 1.5 litre pudding
|
Serves
10-12
|
prep
45 mins
|
total time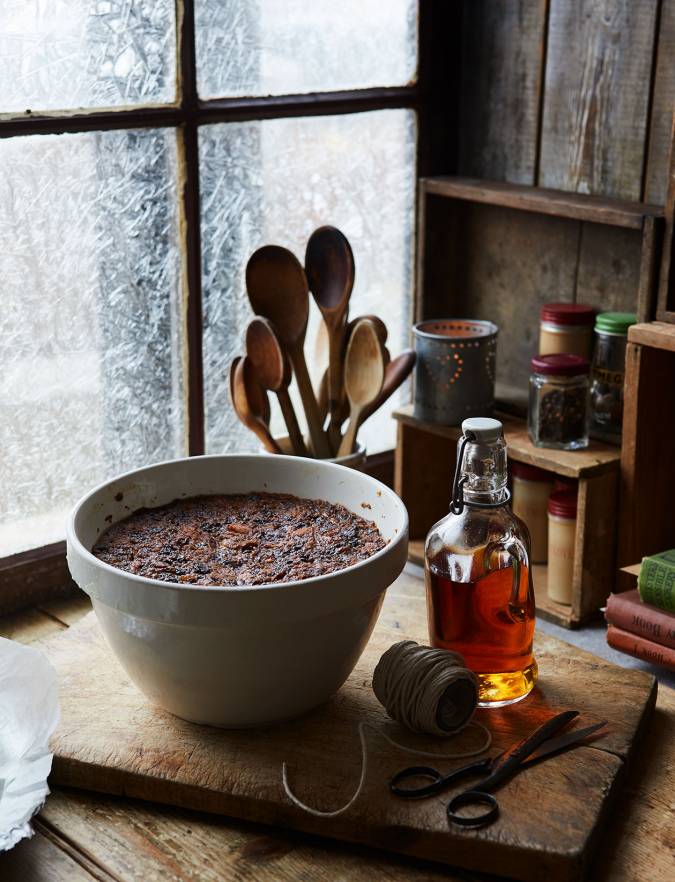 Sticky gingerbread spiced Christmas pudding
Subscribe to Sainsbury's magazine
Makes
1 x 1.5 litre pudding
|
Serves
10-12
|
prep
45 mins |
total time
You can make your Christmas pud months ahead – the rich flavour will only improve, and the colour darken
Nutritional information (per serving)
Ingredients
For day 1
225g pitted dates, roughly chopped

150ml dark rum

225g currants

100g raisins

100g sultanas

100g chopped mixed peel

100g stem ginger, finely chopped, plus 4 tbsp syrup from the ginger jar

grated zest and juice 1 large lemon
For day 2
1 large Bramley apple (about 250g), peeled, cored and coarsely grated

100g self-raising flour

2 tsp ground ginger

2 tsp ground mixed spice

1⁄4 tsp ground cloves

100g dark muscovado sugar

100g fresh white breadcrumbs

150g vegetable suet

50g blanched almonds, chopped

2 large eggs, beaten

120ml Gold Label very strong special beer (or another strong beer with 10-12% alcohol)

melted butter, to grease
Get ahead
Make the pudding up to the end of step 5. Store in a dark, cool and dry place – it will keep for up to a year.
The day before cooking the pudding, put the dates into a saucepan with the rum and cook for 5 minutes over a low heat until mushy. Add to a large mixing bowl, along with the currants, raisins, sultanas, chopped mixed peel, stem ginger and syrup, and lemon zest and juice, then cover and leave overnight.
The next day, stir the grated apple into the soaked fruits. Sift over the flour, spices and a pinch of salt. Add the sugar, breadcrumbs, suet, almonds, eggs and beer and stir until well combined.
Brush a 1.5 litre pudding basin with melted butter and line the base with a disc of baking paper. Spoon in the pudding mixture and level the surface. Put a sheet of foil on top of the work surface, top with a sheet of baking paper measuring the same size as the foil, and brush the paper with more melted butter. Fold a pleat down the centre then put on top of the pudding basin, foil-side up. Shape over the sides of the basin, keeping the pleat in place to allow the pudding to rise, and secure in place, just under the rim, with a double length of kitchen string. Use another piece of string to make a handle. Trim the excess foil and paper back to about 3cm below the string.
Place a trivet, such as an upturned saucer, into the base of a large lidded pan in which the basin will fit comfortably. Lower the pudding into the pan and pour in enough boiling water to come halfway up the sides of the basin. Bring back to a vigorous simmer, cover with a lid, and leave to steam for 6 hours, topping up with boiling water from the kettle as and when necessary.
Careully lift the pudding from the hot water and leave to cool. Remove and discard the paper and foil, then re-cover with fresh paper and foil, as in step 3. Store in a cool, dark place until needed.
To reheat the pudding, steam as before, for 3 hours. Carefully turn out onto a plate and serve with your favourite accompaniments.