Pancakes with blood oranges and Greek yogurt
---
Prep time: 15 mins
Total time: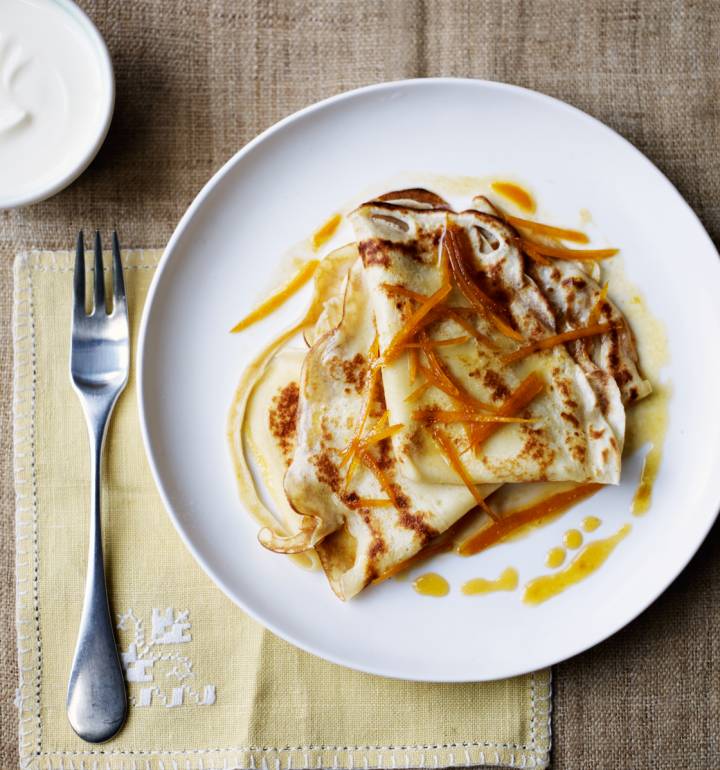 Recipe photograph by Tara Fisher
Pancakes with blood oranges and Greek yogurt
---
Prep time: 15 mins
Total time:
---
See more recipes
---
Nutritional information (per serving)
---


Ingredients
For the pancakes
100g plain flour
2 large eggs
1 tbsp caster sugar
1 tbsp Grand Marnier or Cointreau
finely grated zest of 1 blood (or regular) orange
250ml milk
2 tbsp melted butter
a knob of butter, cooled, for frying
200g Greek yogurt with honey
For the sauce
1 tbsp butter
3 blood oranges - finely shredded zest of 2 and juice of all 3 (about 225ml)
zest of 1 lemon
3 tbsp light muscovado sugar
3 tbsp Grand Marnier
a small sprig of rosemary
Step by step
Make the batter a few hours ahead, leaving out the Grand Marnier, cover and chill; whisk in the Grand Marnier before using. Make the sauce ahead, too; reheat to serve.
For the pancakes, sift the flour into a bowl with a pinch of salt and make a well in the centre. In another bowl, whisk the eggs with the sugar, Grand Marnier, orange zest, milk and melted butter, to combine, then pour into the well. Using an electric hand whisk (or balloon whisk), whisk the liquid into the flour until you have a smooth batter.
To cook the pancakes, heat a teaspoon or so of butter in a small frying pan until hot and foaming, a 16-18cm pan is ideal. Add 2-3 tablespoons of batter for each pancake, swirling it around the pan as you add it. The batter should make 10-12 pancakes in total. Cook each pancake for 3-4 minutes, then flip over for a final minute on the other side. As the pancakes are ready, layer them between sheets of baking paper.
For the sauce, melt the butter in the (cleaned) frying pan. Add the orange zest and juice, lemon zest, sugar, Grand Marnier and rosemary. Bubble everything together for 5-10 minutes or until syrupy. Remove the rosemary.
Put a spoonful of Greek yogurt in the centre of each pancake, then fold the pancakes into quarters.
Drizzle the hot sauce over the pancakes to serve. If they need reheating, layer them in a shallow baking dish, pour over the sauce and heat under the grill briefly until everything is bubbling.
Don't miss

---