Meringue Girls' chocolate pavlova bases
Makes
8 individual pavlova bases
|
prep
15 mins
|
total time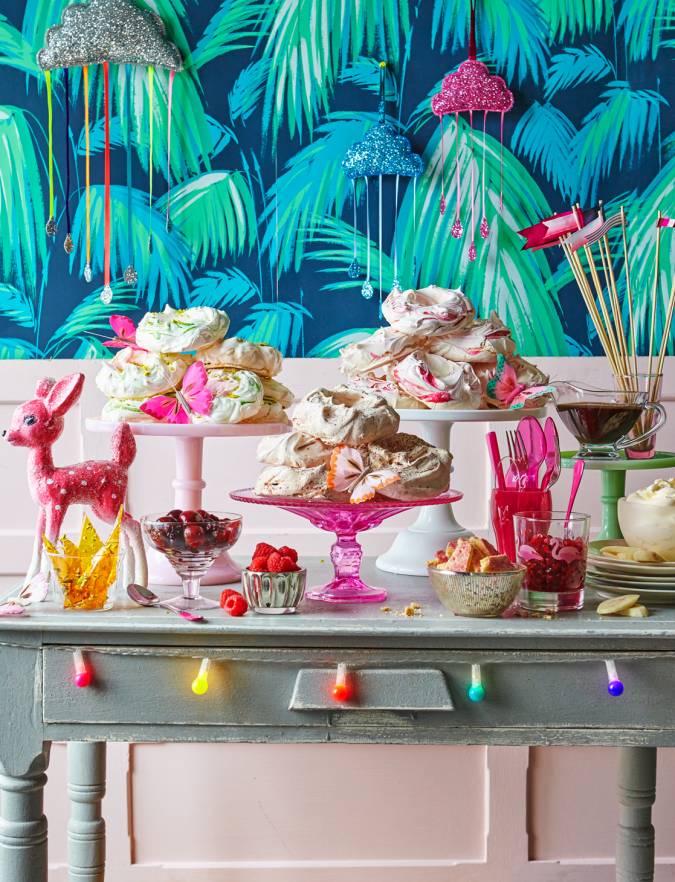 Nutritional information (per serving)
See more
Ingredients
For the meringue mixture
300g caster sugar

150g fresh egg whites (about 4 large egg whites)

1 tbsp cocoa powder, sifted, plus extra for dusting
Get ahead
The meringues can be made 1 week ahead; store in an airtight container. They also freeze well.
Preheat your oven to 220°C, fan 200°C, gas 7. Line 2 large baking trays with baking paper. Using a 10cm round biscuit cutter or chef's ring, draw 4 circles (spaced well apart) on each piece of paper. Turn over the paper (you should still be able to see the circle templates) and set aside. Line a small roasting tin with baking paper, pour in the caster sugar and heat it in the oven for 7 minutes. Heating the sugar helps to create a glossy, stable mixture.
Pour the egg whites into a free-standing mixer (or use a large clean bowl and an electric hand-whisk) and whisk them slowly at first, allowing small stabilising bubbles to form, then increase the speed until they form stiff peaks.
Take the sugar out of the oven, then turn down the oven to 120°C, fan 100°C, gas ½. With your mixer on full speed, very slowly spoon the hot sugar, a spoonful at a time, into the beaten egg whites, making sure that the mixture comes back up to stiff peaks after each addition. Once you have added all the sugar, continue to whisk on full speed for at least 5 minutes until you have a smooth, stiff and glossy mixture. Rub a bit of the mixture between your fingers; if you can still feel the gritty sugar, keep whisking at full speed until it has dissolved and the mixture is smooth.
Now it's time to add your flavouring to your meringue mixture. Gently stir the cocoa powder through the meringue for a marbled effect, being careful not to overmix it, as you want it to look streaky.
Pile your flavoured meringue into 8 heaps on the prepared baking trays, using the circle templates as a guide, forming each one into a spiky heaped circle with a dip in the centre. Dust the pavlovas with cocoa powder.
Bake for 1 hour 30 minutes or until the bases of the meringues come off the baking paper cleanly. If you are not sure if they are done, turn off the oven and leave the meringues inside the oven as they cool. Store the cold meringues in an airtight container until you are ready to add your toppings.