Individual strawberry and cream cheesecakes
Makes
6
|
prep
30 mins plus chilling time
|
total time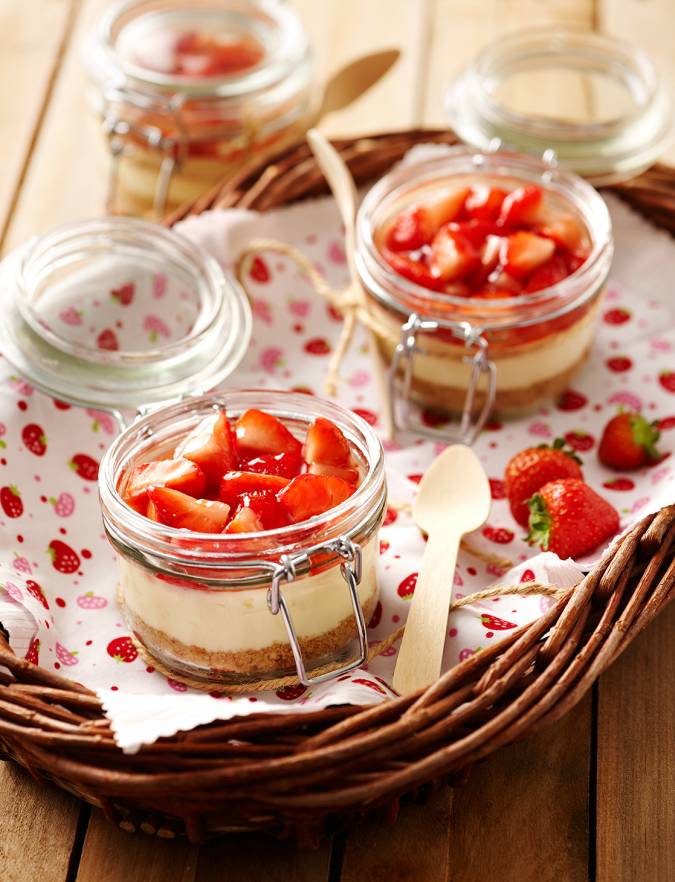 Individual strawberry and cream cheesecakes
Makes
6
|
prep
30 mins plus chilling time |
total time
Ingredients
8 digestive biscuits, finely crushed

40g unsalted butter, melted

200g full fat soft cheese by Sainsbury's

75g caster sugar

juice and zest of 1/2 lemon

200ml double cream by Sainsbury's, whipped

200g small strawberries by Sainsbury's, hulled and quartered

2 tbsp strawberry conserve, sieved
Mix the crushed biscuits and butter together in a bowl. Divide evenly between 6 x 0.5l Kilner or screw-topped jars and press down firmly with the back of a teaspoon. Chill in the fridge while preparing the filling.

Place the soft cheese in a large bowl and beat in the sugar, lemon juice and zest until smooth. Gently fold in the whipped cream. Carefully spoon the filling over the biscuit bases. Tap each jar firmly on a worktop a couple of times to level the surface of the filling. Chill in the fridge for 2-3 hours.

Mix together the strawberries and sieved conserve in a small bowl then spoon over the top of the cheesecakes. Secure the lids on the jars and tie a spoon to the side of each jar. Serve immediately or chill in the fridge for 2-3 hours. The cheesecakes will keep in the fridge for 1 day.